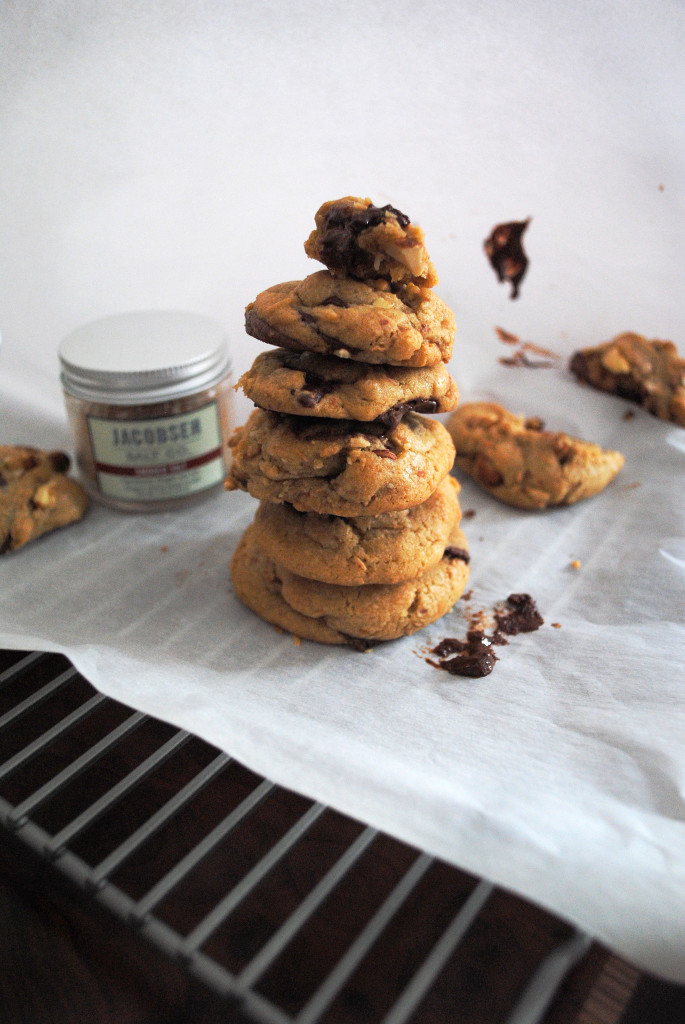 If you've read our About page, you would know that Leili and I met while working at a bakery in Boston. Allow me to garnish with extra information on our delicious friendship. Leili worked back of house as a baker while I worked front of house – we quickly became friends by talking about boys and her occasionally sneaking me sweets.
Between the two of us, Leili is the sweets and I am the salty. I have always been intimidated by baking but slowly unlearning that fear. This all changed very recently when Leili got me the Not Without Salt Cookie Mix by the great Ashley Rodriguez for Christmas.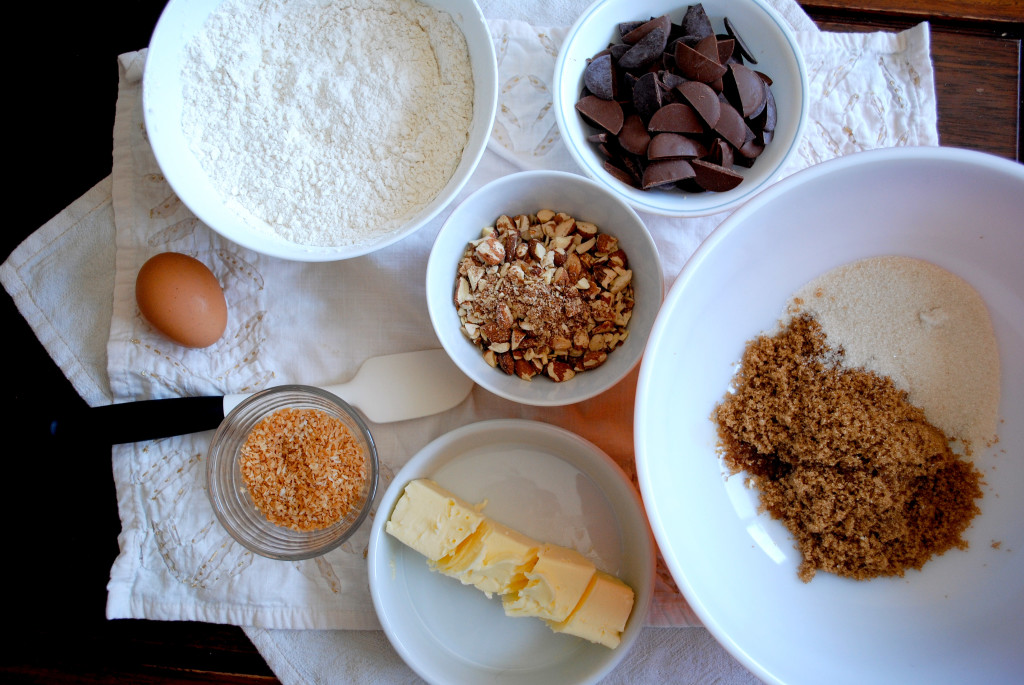 Since that cookie mix, I have been testing cookie recipes of my own. Mixing and baking might be the best form of meditation yet. For this cookie recipe, I wanted to use my favorite chocolate bars for inspiration. The chocolates I usually go for have nuts and sea salt in them. They are so addictive!
For these treats, the smoked sea salt just adds something special, but may be substituted with regular salt if preferred. These goodies are perfect for gifting and definitely a lovely option for Valentine's Day.
Smoked Salty Almond Chocolate Cookies
By W.
Makes about 18-24 cookies
½ cup almonds
¼ cup coconut flakes
1½ cup all-purpose flour
¾ cup brown sugar
¼ cup cane sugar
¼ tsp smoked sea salt (try Jacobsen's smoked salt)
¼ tsp salt
½ tsp baking soda
1 egg
4 oz. softened butter
1 tsp vanilla extract
1 cup chocolate (I used 67% chocolate discs)
Preheat oven to 350F. Toast almonds in roasting pan for 12-15 minutes. I roasted mine whole before chopping them up, but you can chop first. Transfer them to a bowl and let them cool. Put coconut flakes in the pan and place in the oven. This will only take a few minutes so don't walk away. Check on it after one minute and stir the flakes because the outside will brown first. Set those aside to cool once they've turned golden brown.
Arrange the flour, salt, and baking powder in a small bowl. Use a whisk to mix dry ingredients together evenly – this also helps to break up the flour.
In a large mixing bowl, add soften butter, sugars, and vanilla extract. I'm using the method Leili taught me: using two forks to cream the butter with the wet ingredients. Once the butter is creamed with the sugars, add the egg and mix until all combined.
Add flour mixture and gently fold until everything becomes homogenous. Add almonds, coconut flakes, and chocolate – fold again until these are evenly distributed.
Bake immediately or refrigerate for a few hours to really let the flavors soak into the dough. I rolled mine into a mini log and chilled it overnight.
When ready to bake, line sheet with parchment paper – use a cookie scoop or roll out into little dough balls. I like to roll mine out to about 1½" in diameter and place them 2 inches apart on the baking sheet. This next step is optional but will give these treats extra pizzazz: sprinkle a dash of smoked salt on the cookie dough before popping them in the oven.
Bake them for 10-13 minutes or until lightly brown. They should still be soft and gooey in the center. Let them cool for 5 minutes.
May I also recommend serving some gelato or ice cream with these sweet babies?