One of the most exciting things about cooking is finding a recipe you love and then tweaking it around. Letting your intuition and taste buds guide you into new, but familiar territory. At the end of that culinary journey, you pleasantly find that your instincts have done well and created something spectacular.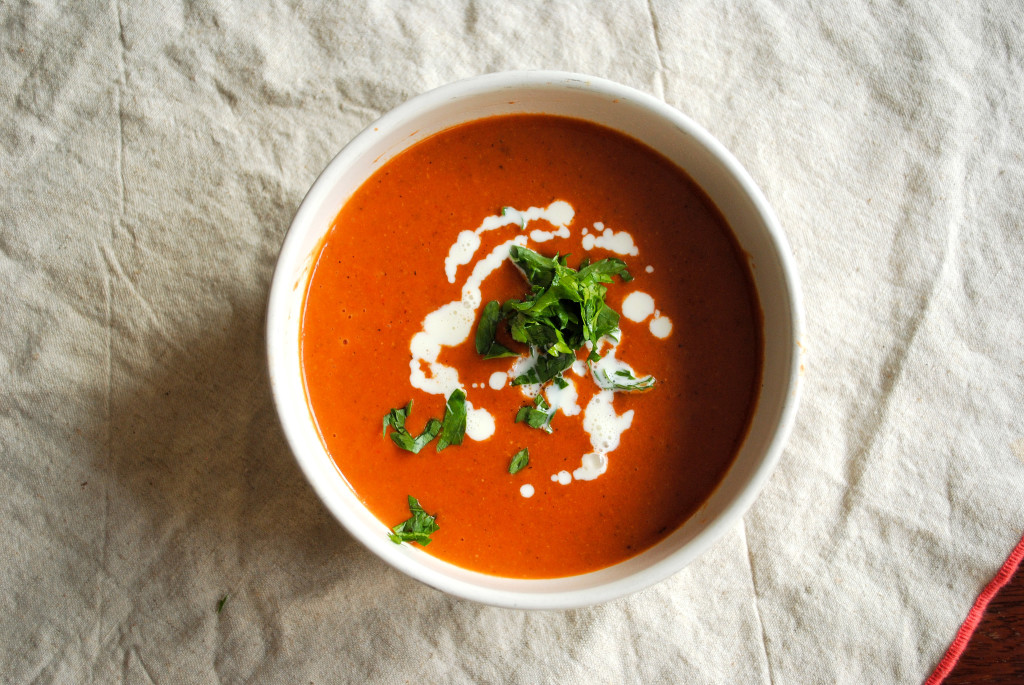 A lot of my recipes are developed that way – cooking through other people's works and then undoing it for my sake. I think that's the heart of the creative process – acquire what skills you need and then unlearn all of that to build something new. It's so exciting this way.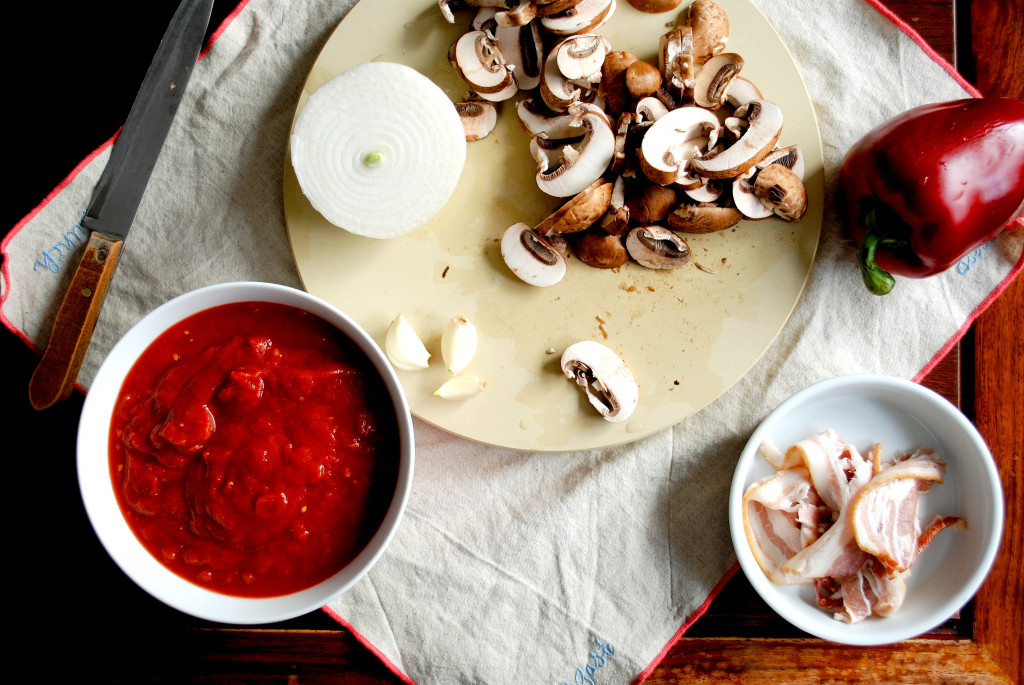 Foodwishes is a big food crush of mine – he makes cooking look really easy and fun. That's where the base of this soup comes from. Another piece of inspiration comes from Crema Café in Cambidge. This café in Harvard Square has the most amazing tomato bisque and I've been trying to recreate it. It's smoky, light, and simply perfect. I try to replicate that here using bacon.
Almost everyone knows that warm feeling of sitting down to a bowl of tomato soup with a spoon in hand and ready to slurp. It's incomparable – I think I have this relationship with every bowl of soup.
Following the recipe that inspired this bisque, I also used rice instead of flour. Without the presence of flour, this soup is gluten free. Bacon is for smokiness and because it's delicious. You can adjust that by using more or less bacon. I used mushroom broth but you can definitely choose one you like best. I chose mushroom because I already had a mushroom base and I wanted to accentuate that.
Try this on a rainy day and it will undoubtedly lift your spirits.
Creamy Tomato Bisque
Inspired by Foodwishes
by W.
serves 4-6
1 pepper
1 28-oz canned San Marzano tomatoes, crushed
3 slices bacon, cut into 2" pieces
Half onion, chopped
2 cups sliced crimini mushrooms
3 garlic cloves, finely chopped
2 tablespoons rice (I used Basmati)
4 cups mushroom broth (or broth of your choice)
½ cup heavy cream, extra for garnishing
½ teaspoon paprika
Salt and pepper to taste
Parsley for garnishing
Cayenne (optional)
Preheat oven to 425F. Roast pepper on aluminum foil or pan in oven for 40 to 50 minutes or until soft and dark brown. Set it aside, remove skin and seeds once it's cool enough to handle. Cut into smaller pieces.
In a medium saucepan, fry bacon pieces until brown and crispy. Remove most of the fat but leave enough for sautéing the vegetables. Add mushrooms and onions with a dash of salt. Let them cook on medium heat until they are soft and slightly darker in color. Toss in the chopped garlic and let it cook for 2 minutes or so. Do not let it brown or it will become bitter.
Once the garlic is done, quickly pour in the crushed tomatoes and broth. Bring it back to high heat until it comes to a boil. Then lower to a gentle simmer. Add paprika. At this point, there will be some foam and fat that you may want to skim off.
Add rice and let simmer for 30-45 minutes. You'll know it's done when all the vegetables and rice look very soft. You can add the roasted pepper at this point. Stir occasionally so nothing sticks to the bottom. Taste for seasoning.
Now, onto the blending – I used an immersion blender but you could also use a traditional blender and do this in batches if necessary. Basically, as long as you get a silky, smooth consistency at the end, then you've succeeded.
Add heavy cream and mix until combined. Adjust for seasoning one last time before serving.
Garnish with parsley and extra cream. This bisque definitely deserves a grilled cheese as a dining companion.