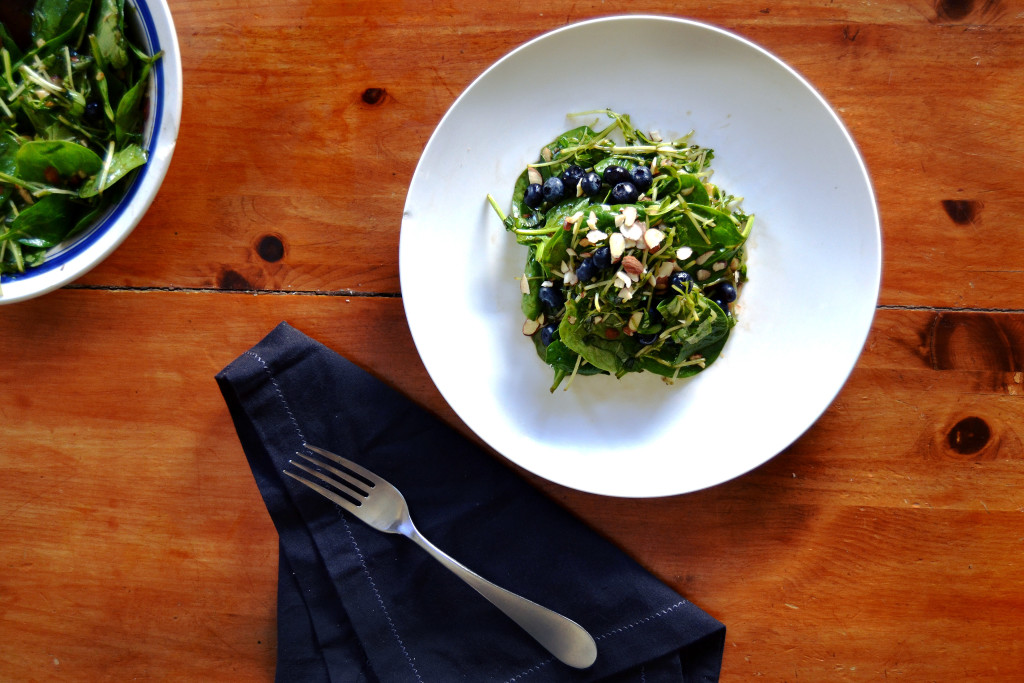 I have an insatiable sweet tooth.
Over the years, I've experimented with putting sweet things where they didn't quite belong. No one questioned a spoonful of sugar in tomato sauce, or a drizzle of honey on some oven roasted veggies, but I definitely raised some eyebrows when I put chocolate on a sausage and cheese pizza…more than once. (It was delicious, but haters gonna hate). Luckily, I don't have to go putting chocolate in salads too, because nature's got its very own sweet stuff.
I'm talking about fruit, guys.
Grilled pineapple, balsamic glazed strawberries, mango salsa…'tis the season to let fruit shine! And I couldn't be more excited about it.
In this salad, basil and blueberries are the stars. It tastes just like summer – which is refreshing, when the actual season is taking its sweet time to get to us. It's also super simple: perfect for a quick weeknight dinner or a light lunch. Basically, this salad is your savior. Get into it.
I used a pomegranate glaze from Trader Joe's for the dressing, but it can easily be swapped for balsamic vinegar. Feel free to throw in a handful of shredded gruyere, and even top it with a fried egg if you wanna get your daily yolk in. That's always highly encouraged.
Blueberry Basil Salad
by L.
Serves 1 or 2
3 cups baby spinach
4 basil leaves
2 cups pea shoots
1 cup blueberries
1 cup sliced almonds
3 Tbsp pomegranate glaze (or balsamic vinegar)
4 Tbsp olive oil
pinch of salt and pepper
Rinse all the greens and blueberries. Use your hands to tear the shoots into smaller pieces. Chop the basil, then toss everything together with the almonds.
Either pour the glaze (or vinegar) and oil on the salad directly, or make a vinaigrette: combine the vinegar, olive oil, salt and pepper and stir vigorously (alternatively, put them in a small jar and shake vigorously) then quickly pour desired amount over the salad.
If serving for two, divide the salad and serve with more vinaigrette to taste.