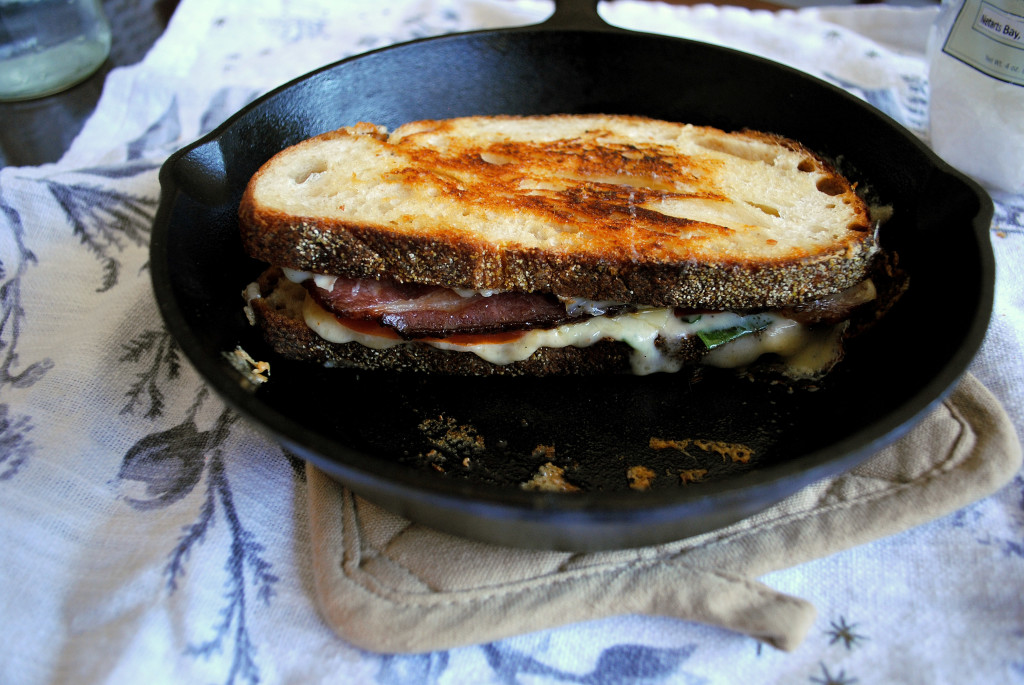 I'm going to talk about a place that doesn't exist anymore… a tiny mecca called Rachel's Kitchen in Bay Village of Boston. They were owned by wife and husband Rachel and Alon. They also made the best sandwiches ever, but they've since moved on to bigger things. Now, Mike & Patty's has taken over the space and they make some mouthwatering sammies as well.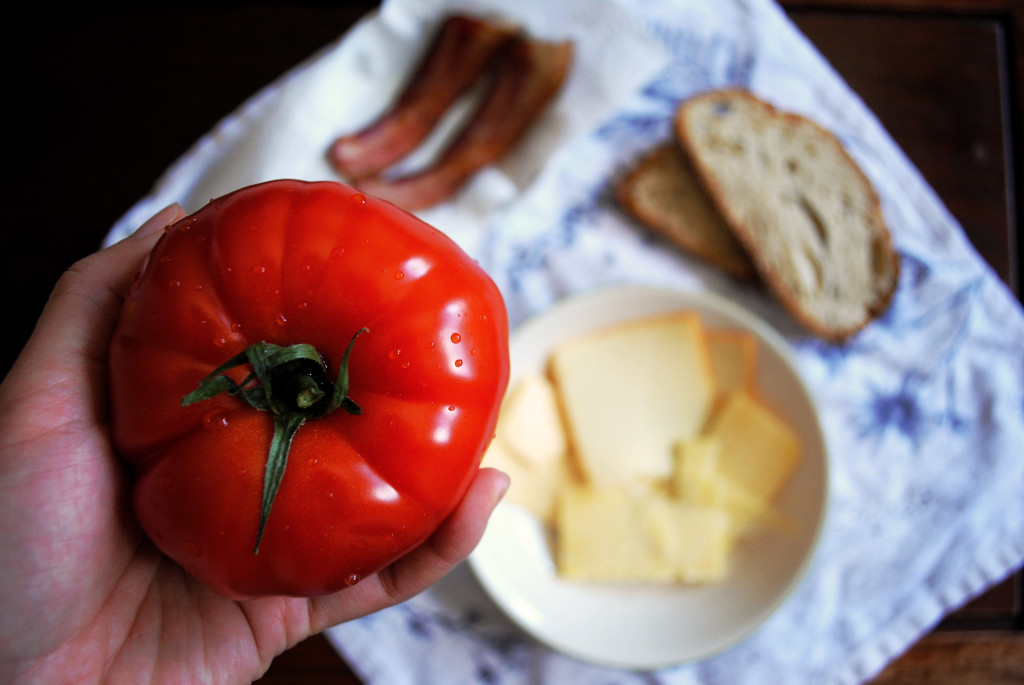 The reason I mention Rachel's Kitchen is because I'm going to try to recreate their house special – The Grilled Cheese Deluxe. In the sandwich, there were three types of cheeses with bacon, tomato, and chives between buttered brioche. It was hard not to get attached. I dreamt about this sandwich and got it on a weekly basis after school. Or I'd be late to gym class because I would inhale this before I got there. Counterproductive.
Honestly, I can't tell you which cheeses Rachel used and I was too shy to ask her back then. The shop closed about 7 years ago so I'm working with a very faint impression here. Work with cheeses you know and trust or just use one variety. I will say that there is no way to mess this up unless you burn the sandwich, so don't do that. The original sandwich calls for brioche, but it's such a rich sandwich with the cheeses already so I chose sourdough for mine. There were no chives to be found at the markets so scallions substituted.
Rachel and Alon, if you're reading this – a BIG thank you for opening up my world to food and being so kind to an awkward teenager.
Grilled Cheese Deluxe
inspired by Rachel's Kitchen
by W.
Serves 1
2 slices bread of your choice
2-3 slices of tomato
2 slices bacon
2 slices harvati
2 slices muenster
2 slices cheddar
1 teaspoon chopped scallions or chives
Butter (room temperature) to spread on bread
Salt and pepper for seasoning
First, fry up the bacon until it's golden brown and crispy. Let them rest on a piece of paper towel to soak up any excess grease.
Butter both slices of bread on sides that will be grilled. For the assembly, I like to layer the cheeses with other ingredients in between. One layer of cheese, bacon, next layer of cheese, tomatoes, salt and pepper, last layer of cheese, scallions. You're ready for the grill!
If you've got a bonafide sandwich grill, I'm very jealous and you should absolutely use that. For me, I'm going to do this old school and use a cast iron skillet. On low to low-medium heat, lay your sandwich down and flip every few minutes. The butter should create a beautiful golden brown crust on the bread. Once all the cheesy layers start to melt and soften, after around 10-15 minutes, it's done.
Try making this for someone special and they will fall in love.