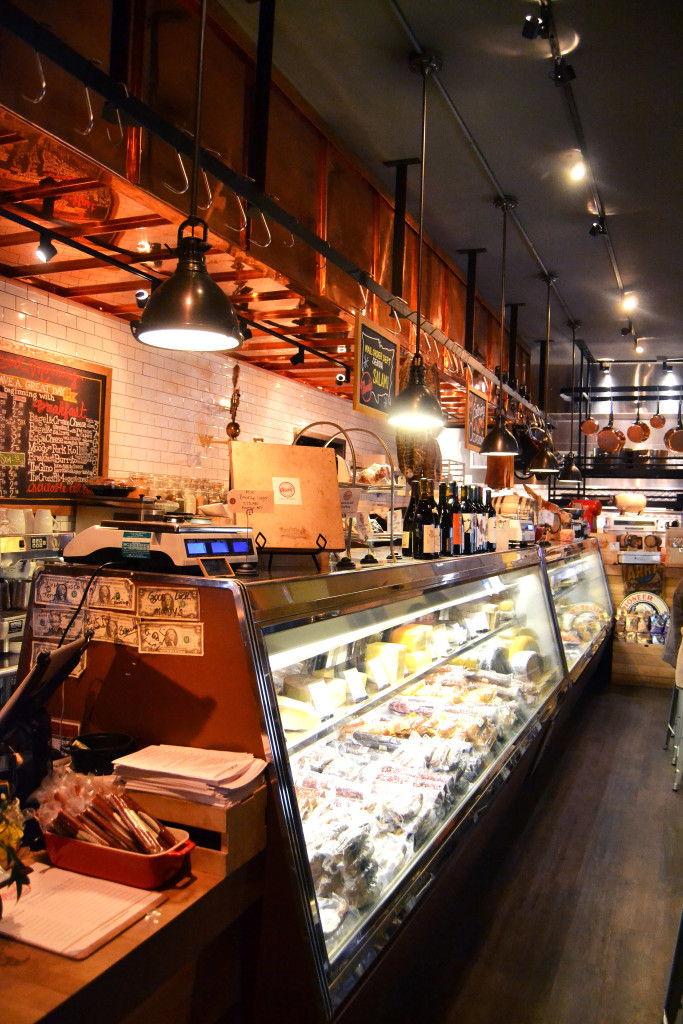 Chef/owner Joshua Smith opened Moody's Delicatessen and Provisions on Waltham's eclectic Moody Street in late 2013. Moody's Deli was named best deli in Boston by Boston Magazine in 2014, and that's no surprise. They make, cure, and sell aged meats in-house, and their sandwiches are always done right, with high end cheeses and perfectly chewy bread.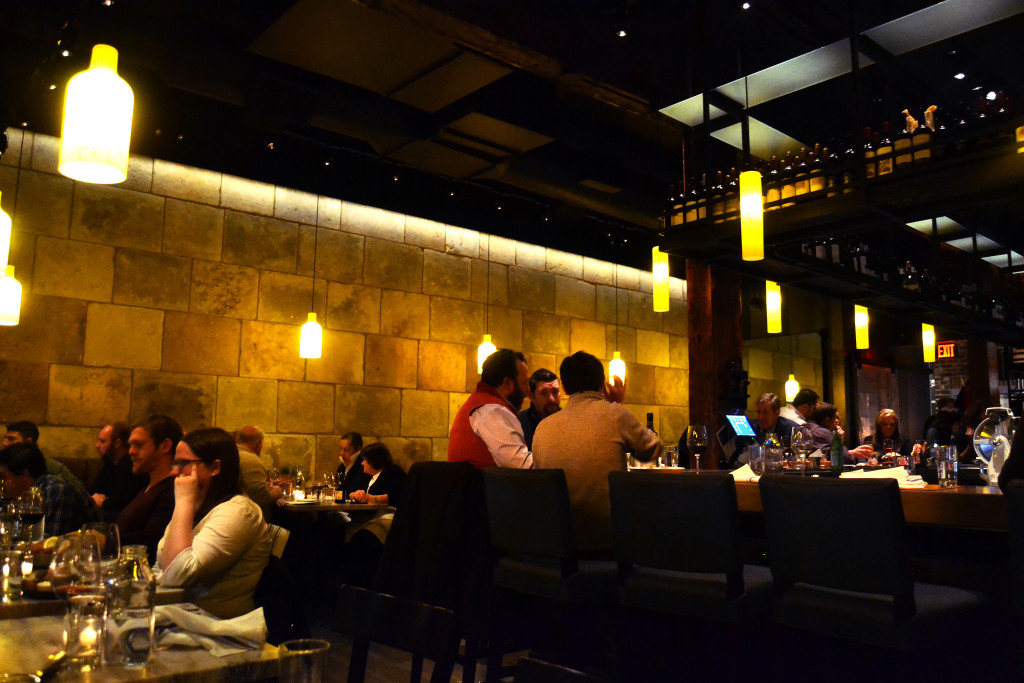 In early April of this year, Smith opened his restaurant space behind Moody's Deli: The Backroom. The menu is meat-centric and makes use of all the great charcuterie from the deli (as well as some cheeses that they make in-house!), but also offers some vegetable dishes and flatbreads. They have an enormous copper wood-burning oven lined with clay that's shipped straight from France, which fits in nicely with the French cuisine and great wine list.
The Backroom is only accessible through the deli, so ogling the case filled with meat and cheese as you enter is encouraged. We were lucky and got a table in the crowded dining room right away, but as word spreads about The Backroom, we think getting a table without a reservation will be tricky.
Once we were seated, after marveling at the high ceilings, expansive stone wall and large wooden beams that shape the space, we were quickly brought fresh bread and butter. Although bread is not usually worth mentioning at other restaurants, we have got to talk about how well it was pulled off here. The rustic, chewy bread was the ideal base for their house-made butter. This butter was crazy fresh, creamy, and had a hint of salt. We had to ask for more bread just to get more butter into our mouths.

To start off the meal, we knew we had to order charcuterie. We selected the coppa meat and Comte cheese to try – a great introduction to the night that gave us a taste of Moody's next door. The dry-cured pork came with pickled red peppers, and the cheese recommended to us by the friendly staff was served with this wonderful, sweet fruit jam. Both selections came with toast to fill our carby desires.
The Parisian Gnocchi was not what we expected – it was better. Parisian gnocchi is sans potato, with cheese as the star ingredient, making them light and airy. These were roasted in the oven with mushrooms and a hefty amount of parmesan, so they were brown and crispy on the outside and tasted like a buttery, herby parmesan ball sent from the heavens. Both the texture and flavor were on point, and these babies were addictive.
Next to fill our hungry stomachs, and eyes, was the Crispy Duck and Frisee Salad – when we talk about the perfect touch, this is it. The caramelized shallot vinaigrette was the star of this plate – it brought all the ingredients together and made it an outstanding dish. The duck and egg were cooked just right, with the frisee to give it some texture. This is not just another salad and definitely worth trying.
The Bourbon Bathed Pork Belly was absolutely extraordinary – worthy of a return visit all on its own. It was perfectly executed and by far the favorite dish of the night. Crispy, tender, and delightful, the fatty meat rested on a bed of turnip puree. Pickled spring vegetables rounded out the dish to create the perfect balance to cut through the richness. We highly urge you to try it because this pork belly sent us to perfect-bite-paradise. 
The Provencale Mussels was the last savory dish to arrive and it was impressive. This dish was on their specials board and came from the wood oven, so we were naturally intrigued. The mussels weren't as bold as some of their counterparts – a combination of tomatoes, olives, wine, herbs, and sausages – but all together were quite delicious. 
Although we didn't order them this time around, we also got a taste of their flatbreads. Shout out to the awesome ladies seated next to us for giving us a taste! Though their spicy 'nduja and ricotta flatbread with toasted hazelnuts was fascinatingly delicious, their special flatbread with pastrami and sauerkraut was out of this world.
And with that, we were comfortably satisfied. But wait! Dessert and tea still had to be ordered, because we always need some sweetness to end a meal. And really, is there ever any good reason to skip dessert?
We went with the Chocolate Terrine, which was like a deconstructed Snickers bar: a thin piece of fudgey chocolate cake accompanied by crumbled peanut brittle and a scoop of sea salt caramel ice cream, all atop some hidden sea salt caramel sauce. We're big fans of a sweet and salty combo done right, and this dessert hit the nail on the head. The small portion was also perfect after already eating our fill for dinner – and then some.
Overall, The Backroom is a must-try, and definitely worth traveling to. Whether for a date or a night with friends, this is one meal that will not disappoint.
The Backroom is open Tuesday – Saturday, from 4-10pm – visit Moody's Deli here for their location and phone number.