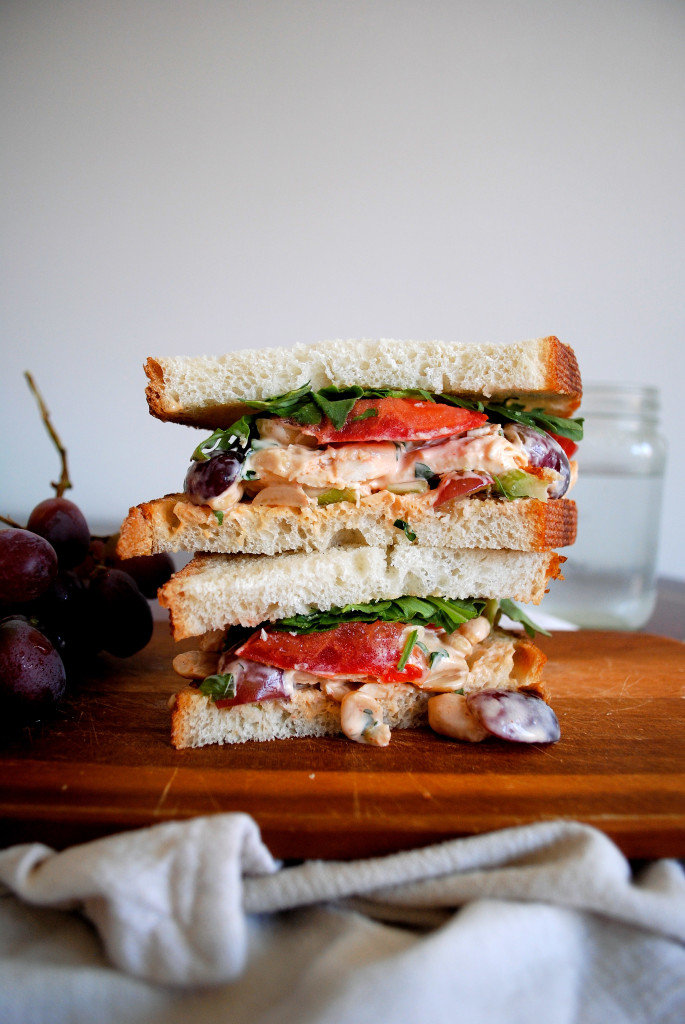 Lately, my legs are adjusting to the long forgotten sensation known as sunshine. They're happy to be out and I'm eager to get them into shape for beaches and skirts. I finally get to eat outside again and no one is taking that away from me for another five months.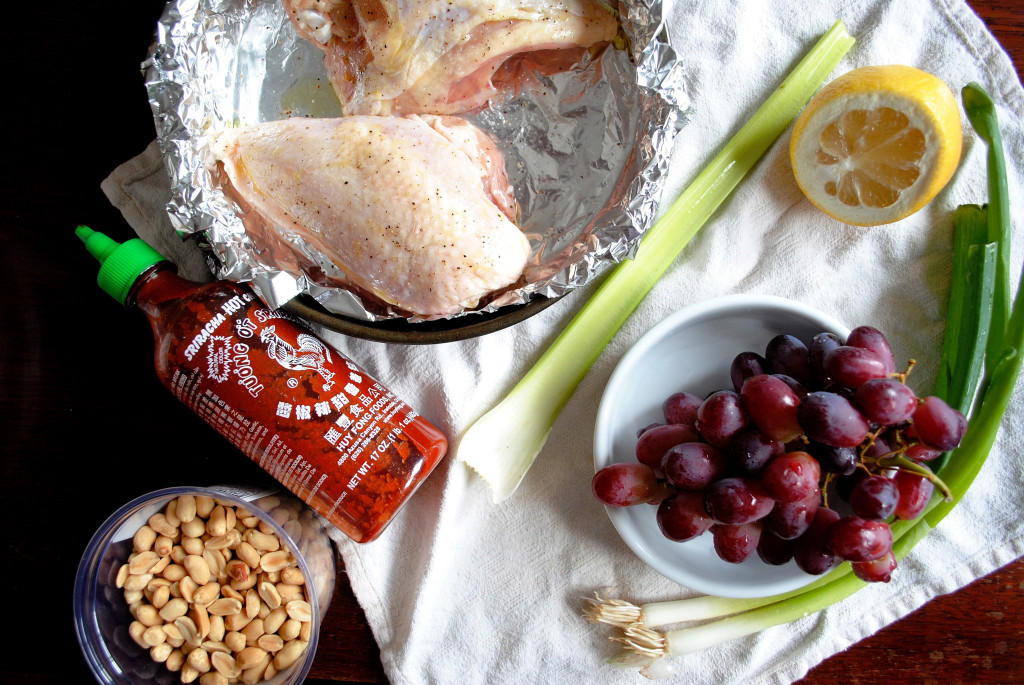 Currently, I am waiting for invites to picnics at the park, or any kind of lunch invite, really. I'm not picky as long as I get to be outside soaking in the rays. My mind is already daydreaming of the Cape and other shenanigans.
The warm weather has made chicken salad cool again, but it's never really gone out of style. My stomach and taste buds will always lust after this classic – it's refreshing and deliciously simple. Chicken salad is so humble but so versatile, and you could jazz it up for a picnic or dress it down for a brown-bag lunch.
For this recipe, my inspiration actually came from eyeing a bottle of sriracha mayo at the grocery store and I thought, 'I could do that.' So I did and I changed a few things around to compliment the beautiful, tangy flavors of the hot sauce.
This dish is super easy to make because the chicken is the only part that requires cooking, and I do recommend cooking or roasting your own chicken to control the flavor and texture. I'd also suggest starting with less mayo if you're unsure how 'wet' you want the salad to be. Add sriracha with caution, but be brave. Be sure to check for seasoning after chilling it since flavors tend to absorb while resting.
One final point: Since Mother's Day is so close by, treat your mom and take her out for a picnic. You two can bond over how great your chicken salad skills are.
Sriracha Chicken Salad
By W.
Inspired by Martha Stewart
2 chicken breast halves (or 1 whole breast) – skin and bone in, makes about 2 cups
1 celery stalk, diced
2 scallion stalks, finely sliced
1 cup seedless grapes, halved
1 tablespoon chopped parsley
½ cup roasted peanuts
½ cup mayonnaise (start with less if desired)
1 tablespoon sriracha sauce
Half a lemon, juiced
Olive oil
Salt and pepper
Preheat oven to 350F. Prepare chicken breasts by dressing with olive oil, salt, and pepper. Place on a greased or lined baking tray. Let them roast for 40-50 minutes, or until the internal temperature of the thickest part is at 170F. Let it cool for at least 20 minutes before handling.
While the chicken is cooking and resting, get the remainder of your ingredients prepped and chopped. Once the chicken is cool enough to handle, you're ready for the next step.
Remove the skin from the chicken – I usually just eat the skin because it is so delicious. Pull the meat away from the bone into bite-size strips; the meat should be moist and tender. You can save the bones for making stock later.
Place the chicken meat into a large bowl and combine all the remaining ingredients. Sprinkle in some salt and pepper. Mix thoroughly until everything is combined. Adjust for seasoning and certainly add some extra sriracha if you want an extra kick.
Let the salad chill in the fridge for at least half an hour before serving to let the flavors mesh together. You should check for seasoning once more after it has chilled.
Serve on a bed of greens or between two slices of bread. You can't go wrong with this one.