It's about time, guys.
I've been itching to share this recipe with all of you since the birth of this blog last year, but posting a recipe that's been years in the making is like watching your baby head off to school for the first day of kindergarten. It's so hard to let go. After years of effort, I can only hope it does well out there. It's close to my heart, so naturally I want it to succeed. But no matter what happens, I will always love it.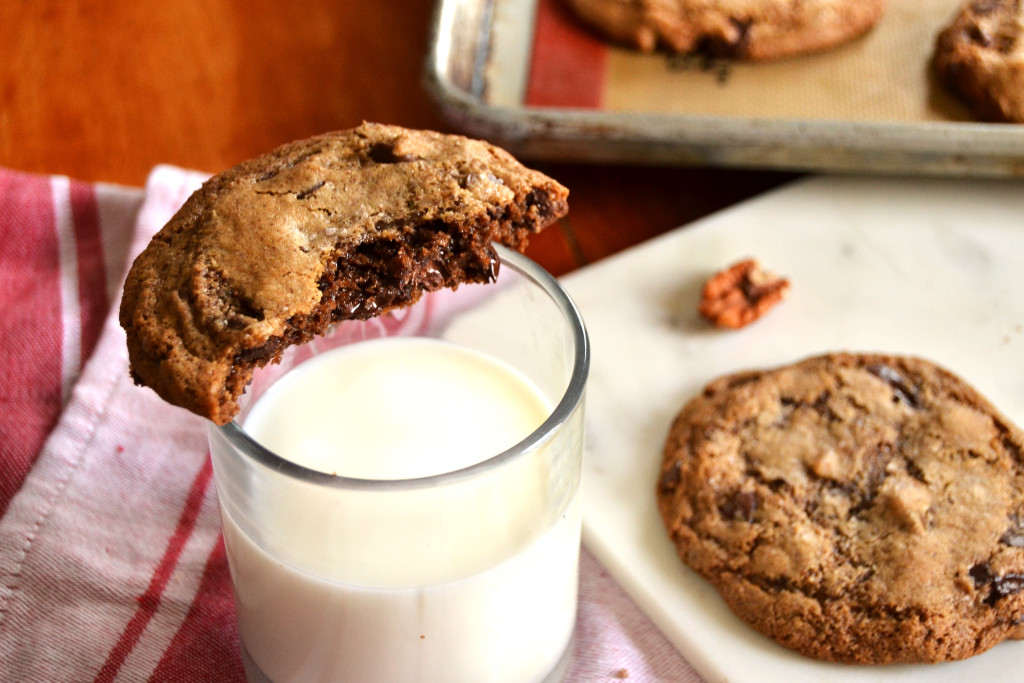 Too melodramatic considering I'm talking about cookies? Let me explain. It all started back in 2012 when I stopped eating gluten, dairy, soy, and all processed food for a couple months…right before I started working at a bakery.
I never said I was sane.
But you know what?
It was awesome. Sure, I missed cheese. I missed cheese A LOT. Other than that, though, it was a fun couple months filled with new cooking and eating experiences. And after a few short days, I realized this seemingly "restrictive" diet was opening more doors than it had closed.
A door to these cookies, for example. Without butter or flour, I desperately needed to come up with a chocolate chip cookie that didn't taste like a dirty rock. I also wanted to avoid using any funky ingredients – xantham gum does not live in my cupboards.
While peanut butter can make flourless cookies with great texture, its peanut flavor can be overpowering. I wanted to recreate a chocolate chip cookie with the classic butterscotch and vanilla flavors I had grown up with, so peanut butter was out of the question. Instead, I turned to another faithful nut: the pecan.
I had already been making my own pecan butter as a smoother and tastier alternative to all-natural peanut butter. Pecan butter is ridiculously silky, buttery-rich, and so easy to make. This, my friends, is the secret to these amazing cookies. After many trials and taste tests, I finally settled on the perfect recipe. Pecan butter gets mixed with sugar, egg whites, leavening, vanilla and dark chocolate chunks, then scooped into large mounds and topped with flaky sea salt. Simplicity at its finest.
The result: satisfyingly chewy cookies with a slight crunch, that are also oh-so-buttery and gooey in the middle. But wait, there's more! If you're not a crunchy cookie fan, just freeze the dough before baking them and be rewarded with softer, extra-gooey cookies that don't spread as much. Whatever it is you want, these babies aim to please.
The best part? No one will know they're gluten and dairy free, or even be able to taste the pecans. Gluten-lovers will be begging for more, and this time you'll actually be able to feel good about giving them more than one.
Flourless Chocolate Chip Cookies
by L.
Yields 14 large cookies
16 oz pecans (or 1 1/2 cups pecan butter)
3/4 cup brown sugar
2 TBSP granulated sugar
2 tsp vanilla extract
2 egg whites
1 tsp baking soda
1/2 tsp baking powder
1/4 tsp salt
1 1/2 cups bittersweet chocolate chunks or chips
Coarse sea salt for sprinkling
Preheat oven to 350 degrees F. Spread pecans out on a sheet and toast them in the oven for 4-8 minutes, until fragrant and slightly darkened. Transfer the hot pecans to a food processor or blender and process them into pecan butter – it should take about 5-10 minutes. At first it will look crumbly, then begin to clump up, and then finally turn into a smooth mass. The key here is not to over-process it, but to also make sure it's no longer gritty: the pecan butter should still be thick, but it should glisten with oil and look runny when tapped against the counter.
Prepare the sheet pan you used to toast the pecans with parchment paper or a silpat.
Combine 1 1/2 cups of the pecan butter and both sugars in a medium mixing bowl and stir together with a wooden spoon until evenly incorporated. Add the vanilla extract and egg whites and mix thoroughly. The dough will be dark brown and oily. Mix in the baking soda, baking powder, and salt, then add the chocolate chunks.
Chill the dough for 5-10 minutes in the freezer or 30-60 minutes in the fridge until somewhat stiffened, then plop rounded heaping tablespoons onto your sheet pan. They spread quite a bit, so leave enough room between cookies. Sprinkle them with coarse sea salt.
Bake for 20-24 minutes, until they look cracked and darker brown around the edges. Let them cool for 10 minutes on a wire rack before moving – they are delicate when fresh out of the oven. You can freeze the cookie dough in balls for up to a few months, then bake them for 25-30 minutes. They will be darker than the cookies baked from fresh dough, but softer and equally delicious.