I'm not the only one in a constant state of craving cheese, am I?
Good. I knew we were friends for a reason.
I mean, I know it's summer. We're all supposed to be slurping on ice-cold watermelon slushies and snacking on shrimp fritters with a few licks of ice cream for dessert.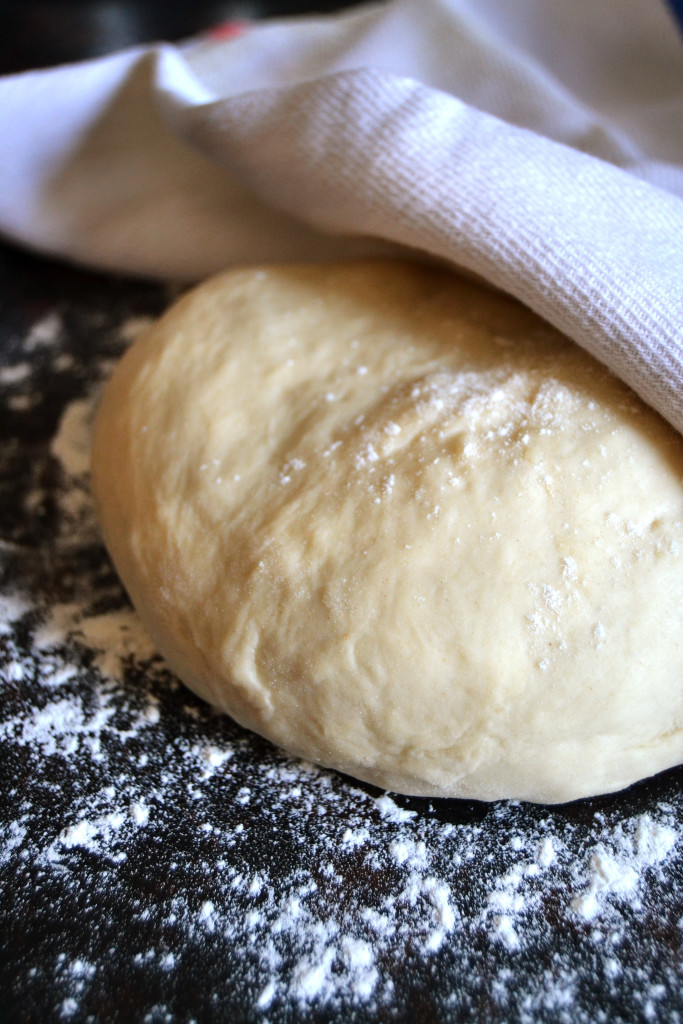 But sometimes summer calls for rich, warm comfort foods, too. Like bread and cheese and bacon. And cheese.
And that's okay. Any time is a good time for cheese, especially if we're talking about the garlic and herb cheese spread that's smothering this flatbread. It also doubles as a dip, and it's the kind of thing you're going to have trouble staying away from. Just don't eat it with your hands, or you might find yourself in danger of losing a finger.
The recipe for this cheese spread actually makes twice as much as you'll need for the pizza, and that's no accident – you're going to want extra. Aside from using it as a dip, I'd imagine it would be great on pasta. Feel free to switch up the herbs you use too. Your flatbread, you call the shots.
So no, this flatbread isn't vegan. This ain't your summer salad and it won't get you any closer to that #beachbod. BUT. Loaded with sweet grilled corn kernels, bacon, cheese, and fresh herbs, this flatbread belongs on your grill this summer. Trust me.
If you don't have a grill, you can easily make this flatbread in the oven. I'd recommend using Wei's lazy smoked corn recipe, then par-baking the dough for about 10 minutes at 425F before adding the toppings and finishing the cooking process.
Grilled Corn Bacon Flatbread with Garlic & Herb Cheese
by L.
Makes 1 16″ rectangular flatbread
Dough:
2 teaspoons active dry yeast
1 Tablespoon honey
2/3 cup water, room temperature
2 1/4 cups all purpose flour, plus more for dusting
2 teaspoons salt
2 Tablespoons olive oil
Garlic Herb Cheese (makes 1 1/2 cups, you'll only need 3/4 cup for the pizza):
adapted from Evelyn/Athens
8 oz cream cheese, at room temperature
2 oz (1/2 stick) butter, softened
3 Tablespoons freshly grated parmesan
1 clove garlic, roasted
2 teaspoons dried dill
1 basil leaf
1/4 teaspoon chives
1/4 teaspoon black pepper
2 Tablespoons parsley
1 teaspoon fresh thyme
Toppings:
1-2 ears of yellow corn
3 Tablespoons extra virgin olive oil
5 strips thick-cut bacon
1/4 cup freshly grated parmigiano
3 Tablespoons parsley, roughly chopped
1/2 lime
Make the dough: combine the yeast, honey, and water in the bowl of a stand mixer fitted with the dough hook. Add the flour, salt, and olive oil and knead on low speed until everything comes together into a craggy mass. Increase the speed to medium and knead for roughly ten minutes, until the dough becomes smooth and only slightly sticky. If the dough is so sticky that it easily sticks to your fingers, add more flour one tablespoon at a time. When the dough is smooth and satiny, transfer it to a floured surface and let it rest under a kitchen towel for one hour.
Meanwhile, make the garlic herb cheese spread: combine all ingredients in a food processor or blender and blend until evenly combined. Set aside.
Cook bacon in a medium heavy saucepan until slightly crispy. Drain on paper towels and let cool, then roughly chop into 1/2" pieces.
After one hour, shape the dough, which should now be almost double its original size. Gently shape it into your desired shape, trying to stretch it as thinly as possible.
Brush the ears of corn with olive oil and grill for 10-15 minutes, until most kernels are browned. Remove them from the grill, and once slightly cooled, use a large knife to cut off the kernels.
Throw the shaped dough on the grill and don't try to move it. After 4-6 minutes, peek underneath. Once the bottom is crispy and charred, flip it over. Brush the grilled side with olive oil, spread roughly 3/4 cup of the garlic herb cheese spread over the dough to the edges, top with 2 Tablespoons parmesan cheese, the grilled corn kernels, chopped bacon, followed by the remaining 2 Tablespoons parmesan cheese and the parsley.
Grill for a few more minutes until the bottom of the pizza is cooked and crispy. Transfer to a cutting board, then finish with the juice of 1/2 lime (the acidity cuts through the richness of the other ingredients – I would think balsamic vinegar would also work deliciously).
Slice and enjoy immediately. Store leftover slices in the freezer and re-heat in a a 350F oven for 10 minutes – or microwave it if you're lazy. It will still taste great.