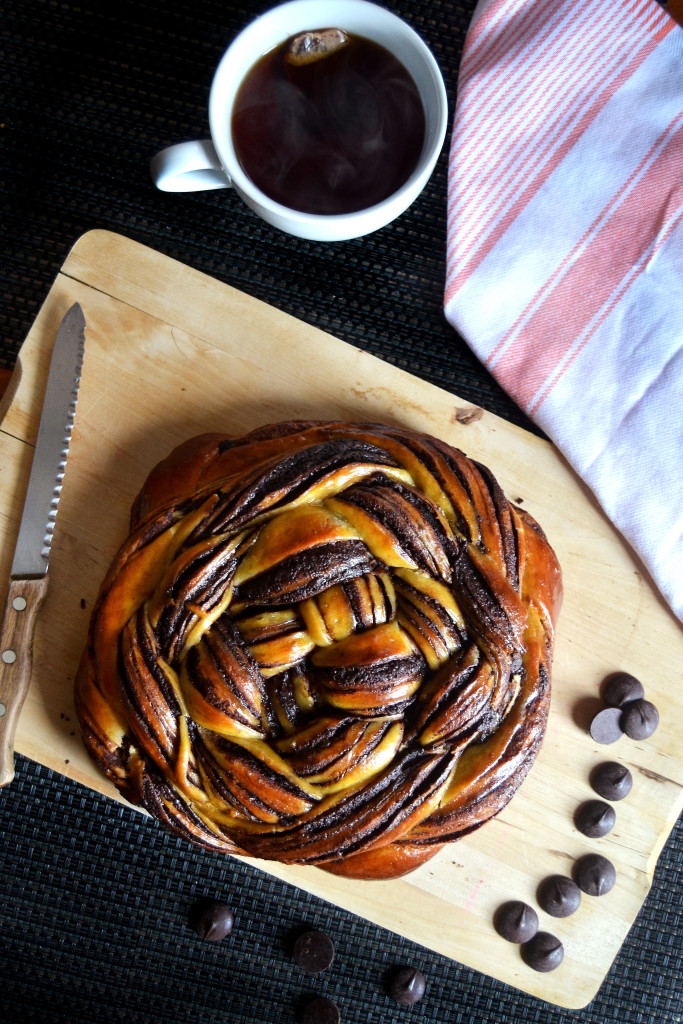 I apologize, friends.
Because I know you. I know that the knowledge that this challah bread exists will now eat away at you until you get the chance to make it for yourself. (Or at least until you can bribe your roommate/spouse/pet to make it for you so you can shove some in your face.) I know that one look at it already has you itching to get into your kitchen, and scanning the ingredients to see if you could get started on it right away, before any of the day's other demands can be faced.
And it's horribly unfair of me to put this upon you, because if you make this challah bread, it will make your kitchen smell like that first fresh cup of orange juice in the morning, mixed with the deep, seducing aroma of blissfully dark chocolate.
It's awful, really, that shaping this woven loaf is about as much fun as playing with play-doh is to a five-year-old. Not to mention how ridiculously simple it is to throw together – I mean, where's the challenge when this dough is so wonderfully forgiving? Why even bother!?
I'll tell you why. Because this challah…it's something else. Not only is it whimsically beautiful, not only is it fragrant and delicious, but it's also one of those rare things you can feel really proud of yourself for making. And you'll probably make it again and again (and again), because you'll have people pestering you for it again and again (and again).
Even if you don't consider yourself a baker, this is one loaf you can make easily. The trick here, as with most bread recipes, is patience: yes, it's an easy recipe and the process is simple, but the dough really does need time to rest to develop its flavor and rise. So this may take two days from start to finish, but you will be rewarded with a loaf that's way bigger than your head. And isn't that the dream?
This recipe is sort of a twist on challah bread and babka – I tweaked my go-to recipe for challah bread from Smitten Kitchen (I typically make her apple honey version without the apples when I want a plain challah, always in a round because it's more fun to shape), and I wanted to figure out how to include chocolate somehow. I noticed Ottolenghi's method of making a krantz cake in Jerusalem, used by Deb Perelman to make her "better chocolate babka" last fall, was perfect for my purposes.
Challah and babka are very similar, but babka is more brioche-like because of its butter content, while challah is decidedly breadier – though my version is richer than traditional challah because of the extra honey and buttery-chocolate filling. Rolling up the chocolate into two logs then slicing them each in two is what results in the chocolate stripes, and once I realized that was all it took to give chocolate babka its signature swirls, well, it was all down-hill (or up-hill) from there.
A few notes:
If you're trying to work the resting times around your schedule (the way I've scheduled it yields consistent results, but with bread recipes there's always flexibility), keep the longer resting times before the loaf is shaped. This is because the chocolate filling solidifies as it cools, and when it does, the dough will be constrained by the hardened mass of chocolate swirled throughout it and won't be able to proof, resulting in a denser crumb. That's why I have the plain dough rest overnight, and only let the shaped loaf sit for a few hours at room temperature, and let the logs and loaf rest without being refrigerated.
Because yeast loves an acidic environment, I swapped the water in Deb's recipe for orange juice and added orange zest for a brighter flavor. I also bumped up the honey to balance out the bittersweet chocolate. I think it's safe to say you'll be happy with the results.
If you don't have a mixer, it's not impossible to do by hand, but because the dough is very sticky it will be challenging. I suggest mixing the ingredients until they come together in a bowl then moving the dough to a floured surface to knead by hand, and then returning the dough to a bowl when it gets too sticky and using a rubber spatula to knead and fold it over itself until it's smooth, so as not to incorporate too much extra flour into the dough. This method will take longer, but at least it'll give you a bit of extra arm muscle.
And finally, as Deb mentions in her post, measure the oil out first and then use the same measuring cup for the honey so it slides right out. That tip goes for any oil-honey recipe; it makes life so much less sticky.
Chocolate Orange Challah Bread
by L.
Yields 1 large loaf, adapted from Deb Perelman of Smitten Kitchen and Yotam Ottolenghi's Jerusalem
For the dough:
3 1/2 teaspoons active dry yeast
1/3 cup + 2 tablespoons orange juice
zest of 1 large orange
1/3 cup olive oil (or vegetable oil) plus more for the bowl
1/2 cup honey
2 eggs + 1 yolk
1 1/2 teaspoons salt
4 1/4 cups all-purpose flour
Flour for dusting
1 egg, for the egg wash
For the filling:
4 1/2 ounces bittersweet chocolate (I used 70%)
4 ounces unsalted butter
1/3 cup granulated sugar
2 Tablespoons cocoa powder
Edit 12/5/15: After a few readers reported that their dough was too dense, I remade this several times and found that dissolving the yeast first resulted in a consistently smooth and sticky dough. I also added a few tablespoons of orange juice and an extra teaspoon of yeast, and found this to result in a more fluffy dough. These changes are already reflected in the recipe.
Heat or microwave the orange juice to body temperature. In the bowl of an electric stand mixer, combine the yeast and orange juice and stir to dissolve, then add the honey, zest, oil, and eggs and yolk. In a separate bowl, mix together the salt and flour, then dump this into the mixer and knead for 10-15 minutes on medium speed using the dough hook attachment. At first the dough will be a craggy mass, then it will come together and eventually be smooth and satiny but still sticky. Oil a separate bowl, then transfer the dough to the oiled bowl. It will get less sticky as it rests. Let it sit, covered, for about an hour at room temperature, then stick it in the fridge overnight (anywhere from 8-24 hours, with a longer rest yielding better results – if your kitchen is cold, though, you can get away with letting it rest unrefrigerated, as long as you punch it down every few hours).
The next day, take the dough out, gently press it down and flip it over in its bowl, re-cover, and let it come back to room temperature, which could take 1-3 hours.
Meanwhile, make the filling. Melt together the butter and bittersweet chocolate, then mix in the granulated sugar and cocoa powder until combined. It should be runny – a little graininess from the sugar is expected. Let it sit at room temperature while you get the dough ready (don't refrigerate it, it will get too thick to spread).
Dump the dough on a lightly floured work surface and divide it into two equal parts. Set one half aside, and gently press or roll the other into a wide rectangle about 15"x10", and 1/4" thick. It doesn't have to be perfect. Spread half of the chocolate filling all the way to the sides of the dough on the right and left, but leave a 1/2-1" space on the top and bottom edges. From the bottom edge closest to you, begin rolling up the dough like you would if you were making sticky buns or cinnamon rolls. When you get near the end, wet the top 1/2" of dough and spread it thinly across your work surface – this will make it easier to adhere to the other side of the roll. Roll it up and smooth out the edge, then set aside to rest. Repeat with the other half of the dough, and let these two logs rest for another hour, covered loosely by plastic wrap or a dish towel.
Next, cut each log in half lengthwise, so you're left with four skinny logs that are striped with chocolate. Now the fun begins! With these chocolate stripes facing up so they're visible when the bread is baked, make a plus sign with two of the logs. Loosely weave the other two logs into this plus sign. Then, loosely take both ends of one side of the plus sign and cross them over each other. Do this to all sides of the plus sign, then do it again, and again, alternating going over and under, until you're left with almost a round, then tuck in the ends underneath the loaf. (See the pictures for guidance). Keep it loose enough for the bread to have room to rise in the oven, but not so loose that when you're done shaping the round there are visible spaces between the strands of dough.
Cover with a towel and let it proof for about two hours. It won't look much larger, but should have a "puffy" look to it. Brush it with egg wash and let rise for another hour. Pre-heat your oven to 375F, and then brush your loaf again with egg wash before popping it into the oven. Bake for 35-45 minutes, but check on it around the 25-30 minute mark because it may get dark too quickly, in which case you can cover it with foil for the remainder of the cooking time.
When a thermometer reads an internal temperature of 195F (or when it looks beautifully bronzed and sounds a bit hollow when you tap on it), it's done. Let it cool completely on a wire rack before cutting into it. Waiting to cut it retains its structure and allows it to stay moist for longer, but that isn't a problem if you're going to devour it all right away. So do you.
Enjoy with a cup of tea, milk, or snack on it plain in all its chocolate-orange glory. And if you still have leftovers the next day, I guess you'll just have to french toast it.