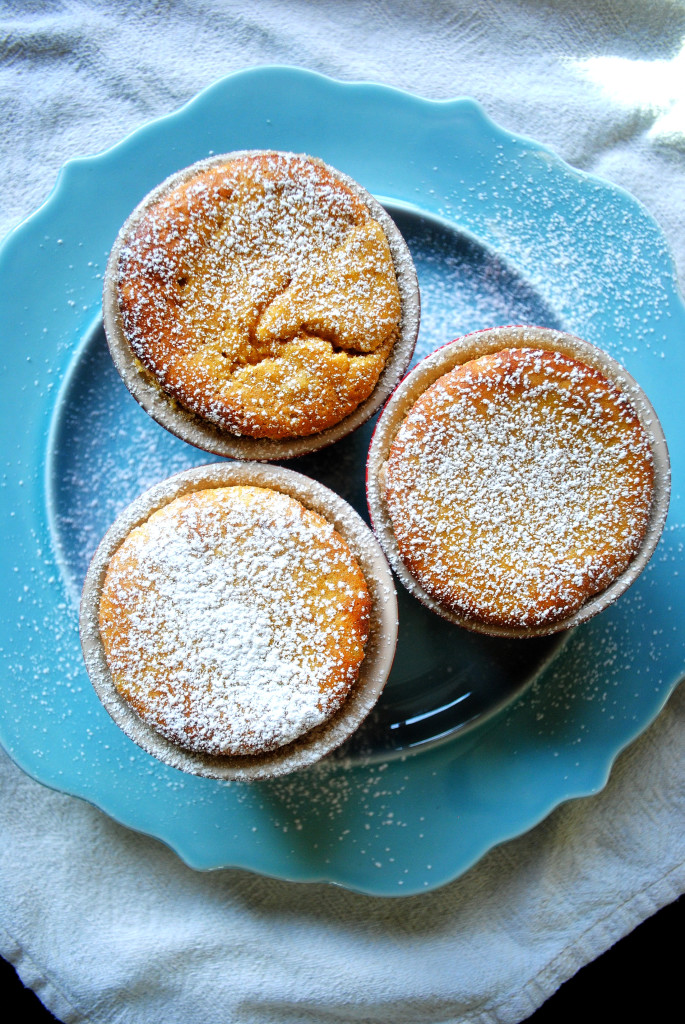 Let's talk about the magic of desserts. Desserts are the mistresses to any meal – you try to deny yourself this tasty treat, but you know you still have room for something sweet and the seductive word itself entices you to give the menu a glance before you surrender to the sweet rush of sugar and satisfaction.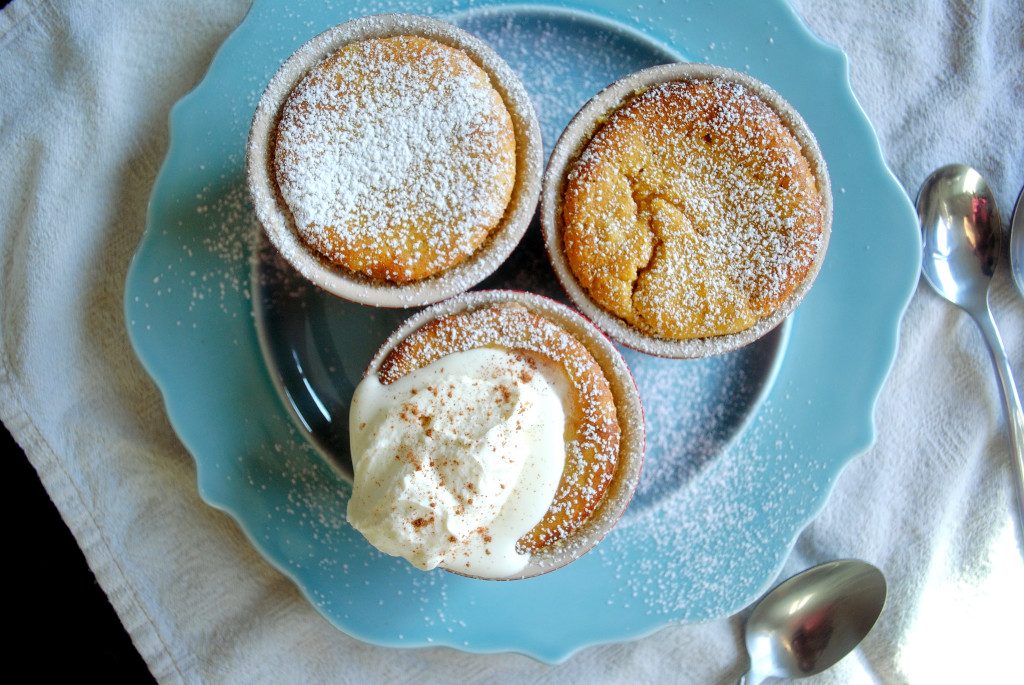 We all know that feeling – you're anxiously waiting for one of your friends at the dinner table to take up the offer on dessert. Ten minutes after you order, you're all sharing this precious small plate, and another five minutes later, it's all gone and all tummies are happy. Dessert is the lasting key to friendship.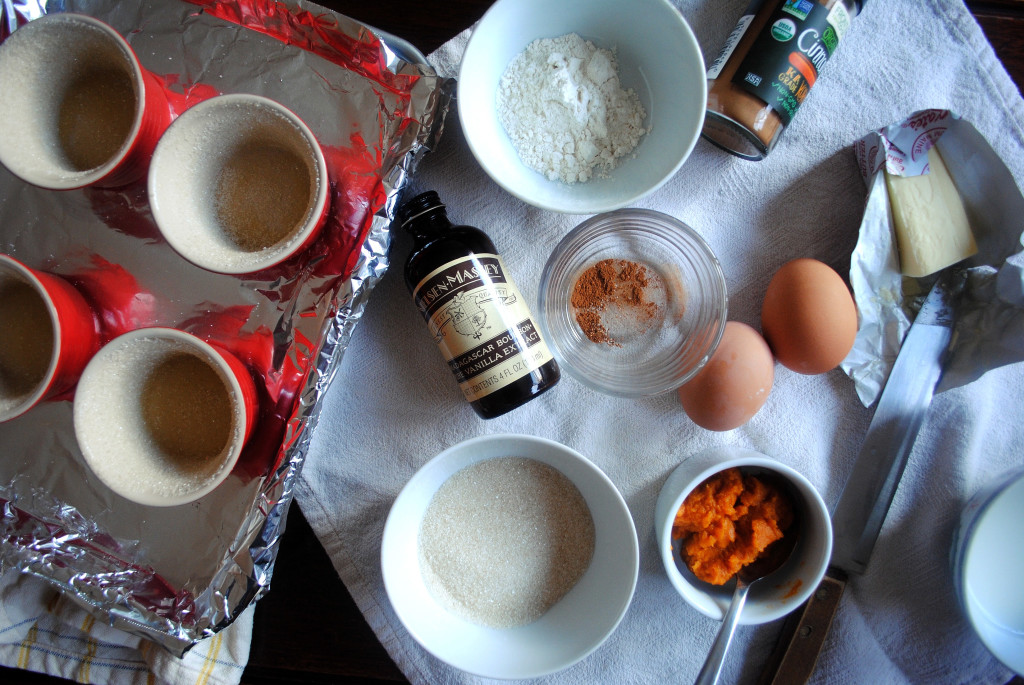 In the spirit of Thanksgiving, and particularly Friendsgiving, I'm going to share this light and fluffy pumpkin soufflé recipe with you sweet folks.
I'll be honest here, this recipe is not ideal for larger parties unless you're a hero and don't mind doing a lot of prep work and math. If that hero is you, I applaud you. For the smaller party hosts or participants of Friendsgiving, this is perfect. The light touch of pumpkin in an airy soufflé is seriously dreamy – it's an appropriate and seasonal end to a beautiful autumn.
This pumpkin soufflé is wonderful for sharing with a group of people you love. The recipe is actually fairly simple when broken down; just be sure to take your time to do your mise en place. It will undoubtedly make everything much easier and quicker.
Show your friends and family your sweeter side. Your soufflé skills will surely impress everyone.
Fluffy Pumpkin Soufflés
Adapted from Epicurious and Food Wishes
By W.
Makes 3 X 7oz. ramekins or 4 X 5oz. ramekins
Ramekin Prep
1 tablespoon melted butter
2 tablespoons granulated sugar
Soufflé
2 large eggs, separate whites from yolks
1 tablespoon + 2 teaspoons butter
5 teaspoons flour
¼ cup cold milk
½ cup pumpkin puree
1/8 teaspoon cinnamon
Pinch of ground clove
Pinch of nutmeg
Pinch of salt
1/8 teaspoon vanilla extract
¼ cup granulated sugar
Preheat oven to 400F. Line a sheet tray with aluminum foil – this will make the cleanup easier later. Prep the ramekins by brushing or coating the inside with melted butter. Next, pour sugar into one and roll along the sides and bottom to get an even sugar coating. Pour excess sugar into the next ramekin and repeat until all the ramekins are covered in the butter and sugar lining. Place the ramekins on the prepared sheet tray.
Tip: Try to get a very thin coating of butter and sugar – excess butter at the bottom will result in more sugar sticking to the ramekins. This shouldn't effect the baking process, but will make your soufflés unintentionally sweeter.
In a small pan over low heat, warm butter until melted. Add flour and stir with butter until golden, about 2 minutes. Then add milk and continuously stir until it becomes thick, like mashed potatoes, about 3 minutes. Transfer the mixture to a mixing bowl.
Add pumpkin puree, cinnamon, ground clove, nutmeg, and salt to the bowl – use a spatula to mix until everything is combined. Add egg yolks and vanilla extract; mix again until smooth.
In another mixing bowl, add egg whites and start whisking until foamy. Add half of the ¼ cup sugar and whisk until combined and the foam becomes thicker. Add the remaining sugar and keep whisking until the meringue can hold its shape and looks glossy.
Add half of the meringue mixture to the pumpkin batter and fold until combined. Pour the remaining meringue mixture into the soufflé batter and gently fold until everything is combined.
Evenly distribute the mixture into the sugared ramekins, leaving ¼ inch room on top. Place the ramekins with the lined sheet tray underneath into the oven; bake for 16 minutes, or until risen and the top is golden brown. Serve immediately.
You can top the fluffy dessert with powdered sugar or lightly sweetened whipped cream.