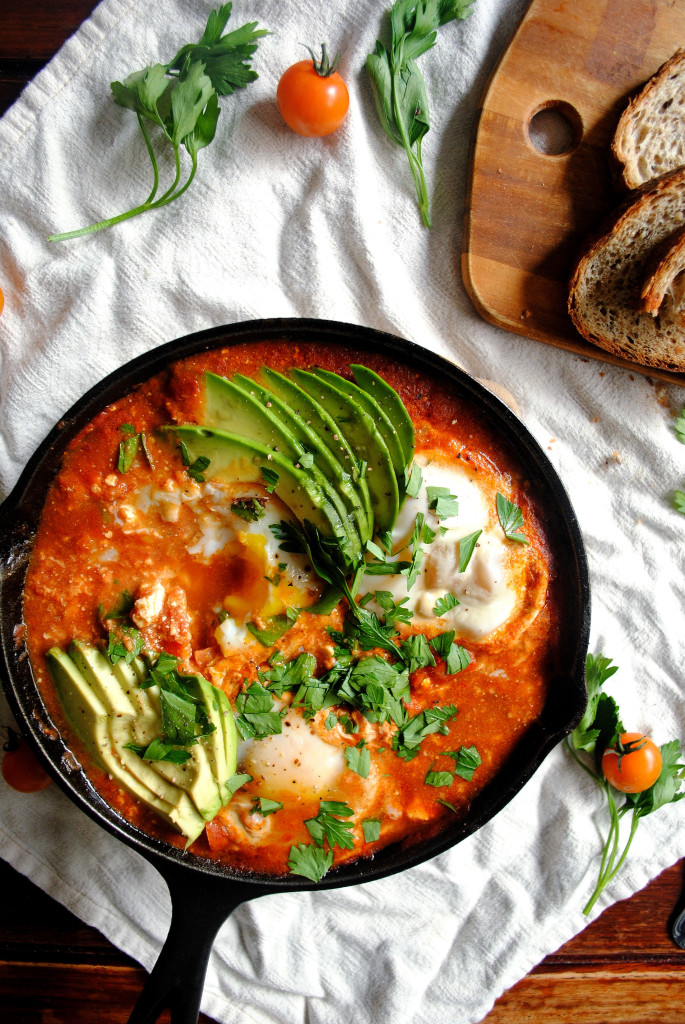 It's Friday! Or rather, Fri-yay! It's been a long week, guys. I haven't been getting much sleep this past week. I can blame it on my lifelong preference for nocturnal activities, or I can blame it on Pablo Escobar. Yes, "Narcos" has me stuck in bed, refusing to close my eyes because the chase for the kingpin is too suspenseful to turn away from. I think I'll be the victim of "Chef's Table France" next. I definitely have TV show FOMO.
But the weekend is here and I'm ready to get out of bed for good brunch food. Bring me all the eggs, please. Mimosas not optional.
Lately for breakfast, I've been craving shakshuka – a spicy tomato-based dish topped with runny eggs. It's as delicious and hearty as it sounds. My first shakshuka came from Tatte Bakery on a cold spring Saturday morning. It was one of the first places we shot outside of our kitchens and it was a lovely and memorable meal. I distinctly remember the shakshuka because I've never had anything like it.
It's warm, spicy, hearty, and possibly a great way to cure a hangover. I haven't had this tomato dish in a long time and I fancied making it. It was worth a try. This dish proved to be quite deceptive.
I say that because the ingredients and the instructions are very straight forward – sauté some spices and tomatoes and add the eggs. But eggs can be difficult to work with sometimes – these are essentially slow-cooked in tomato sauce. My first attempt yielded eggs that were overcooked and lacked the runny consistency I was seeking. But don't despair, everything else is easy and it's worth sitting down to something as sexy as shakshuka in your own home.
Before we jump into it, I want to clarify that this isn't the traditional way to make this dish. I've added bacon to the base and topped it off with feta and avocado. It can be made vegetarian by taking the bacon out and using olive oil instead of bacon fat. Another note: I used an 8″ cast iron skillet. If you've got a larger pan, measure accordingly. By that, I mean add more eggs and cheese.
Now let's get cracking on those eggs.
Loaded Shakshuka
Adapted from Melissa Clark at New York Times
By W.
Serves 2-3
2 strips of bacon, cut into small pieces
1/3 cup diced onions
Half bell pepper, diced
1 large garlic clove, chopped
1 teaspoon cumin
1 teaspoon paprika
Pinch of cayenne
Salt and pepper
28 ounce canned whole tomatoes, roughly chopped
1/3 cup feta
3 eggs
Half an avocado, sliced
Chopped parsley for garnishing
In a deep pan, cook bacon on low heat for 5-8 minutes, or until crispy. Use a tong to hold a folded paper towel and mop up most of the bacon fat, leave about a tablespoon for cooking. Add diced onions and pepper and cook on low heat for another 5 minutes. Add garlic and spices, cook and stir for 1-2 minutes, or until fragrant. Gently pour the tomatoes into the pan and stir everything together. Let the tomato sauce simmer for 10-15 minutes. Place feta in and stir.
Before adding the eggs, taste the sauce and adjust for seasoning; once the eggs are added, there will be no more stirring. Once the sauce's flavor is to your liking, gently crack one egg at a time into the tomatoes and do not disturb. Season them with salt and pepper. Keeping it on low heat, place a lid over the pan and let the eggs cook for 7-10 minutes, until they just set.
Once the shakshuka is done, top off with sliced avocado and garnish with fresh parsley. Serve immediately. Don't forget to have some toast ready.