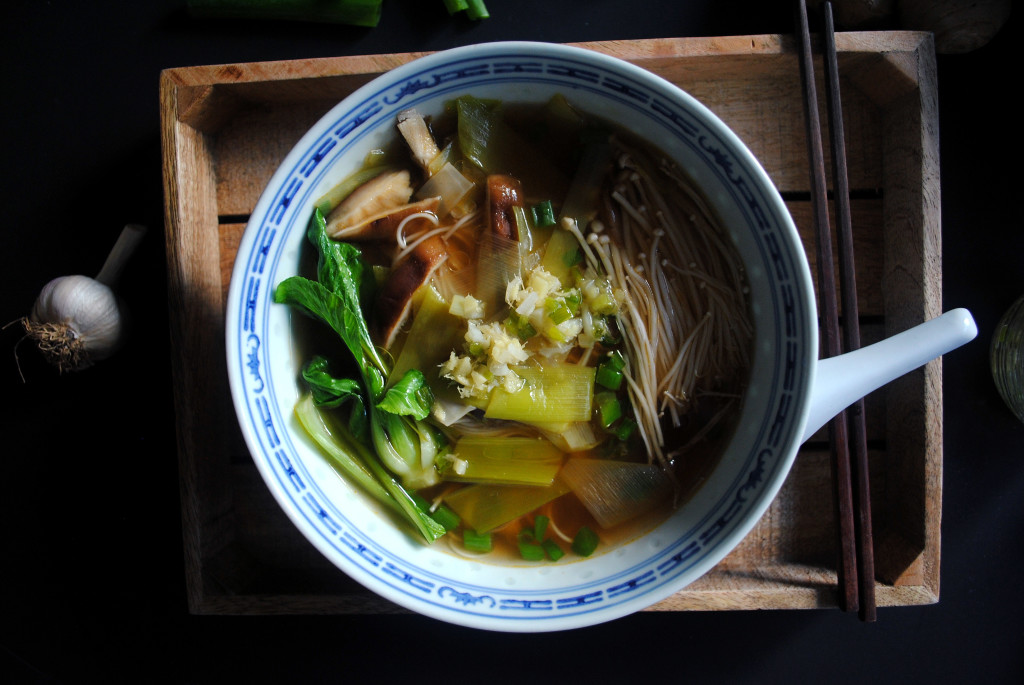 I'm back with more date night ideas. This one involves cuddling up on the couch with a giant sweater on while slurping on some hot soupy noodles. Sounds amazing, right?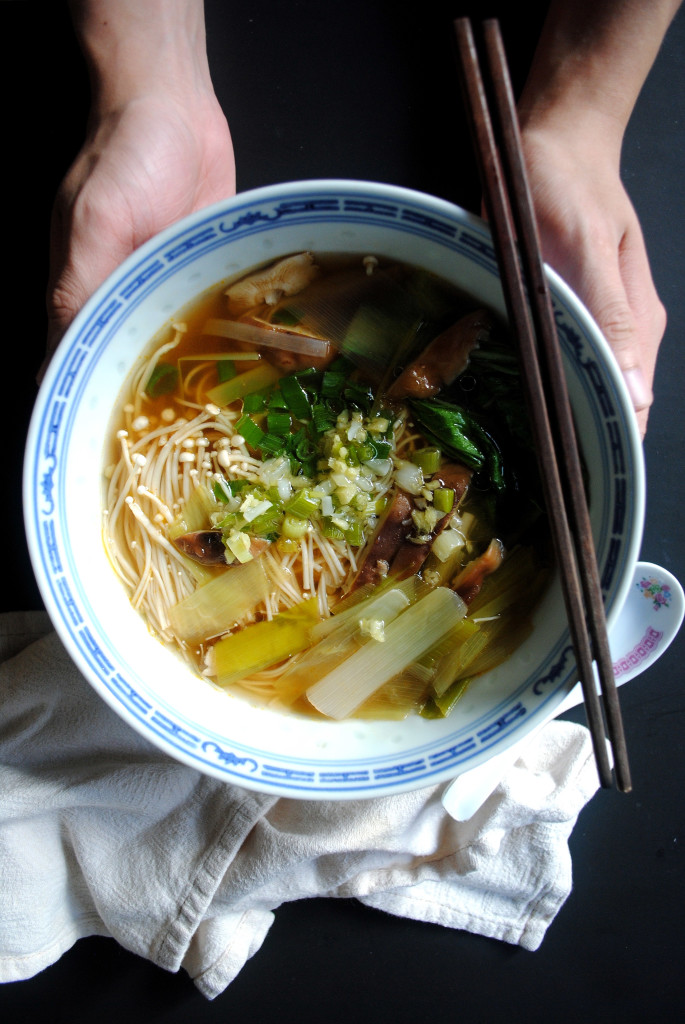 You guys know I love a good noodle soup, not the Western kind of noodle soup. You know, like chicken noodle soup. Don't get me wrong, I absolutely love chicken noodle soup. But I'm talking about the kind that's a little closer to ramen or pho. The kind where the noodles and soup make up the main foundation of the dish. That kind of noodle soup.
There are few things I love more than sitting down to a steaming large bowl of soup filled with large amounts of noodles and vegetables. I eat these so fast that I quickly develop a big sweat but I can't help myself. In fact, call me Noodles.
Since it's just the beginning of fall, I haven't fallen into my "cold weather diet" yet, which mainly consists of thick slabs of pork belly and lots of carbs. I wanted to keep this one light but still give my tummy some immediate satisfaction. So I opted for a vegan version this time. With recipes like these, it's more of a throw-in-whatever-you-got for the vegetable portion. Heck, add some meat if you want extra protein. As I say, there are no wrong toppings for a noodle soup.
What really makes this one stand out is the garlic ginger oil – it instantly adds a different dimension to the dish. It might not make your breath smell nice, but your noodles wouldn't mind it. Besides, if it's date night in with sweatpants, who cares about garlic breath? Garlic breath is the best kind of bad breath anyway.
Slurp away, lovers. Slurp away.
Vegan Noodle Soup with Garlic Ginger Oil
by W.
Serves 2
Garlic Ginger Oil
3 tablespoons vegetable oil
Thumb-size ginger, minced, about 2 tablespoons
2 scallions, chopped, white parts (save greens for garnish)
3 large garlic cloves, finely chopped
Salt
Vegan Noodle Soup
1/2 teaspoon vegetable oil
Thumbsize ginger
1 leek, chopped
6-8 shiitake mushrooms, sliced, keep the stems after separating from mushroom caps
4 cups vegetable stock
1 bok choy
3 ounces enoki mushrooms
Pinch of cayenne
Salt
2 servings of noodles of your choice (I used Somen)
Scallions, chopped greens
Garlic Ginger Oil
Start by warming up a pan over medium heat. Add vegetable oil to warm for a minute or two. Then add minced ginger and chopped white parts of scallion. Season generously with salt and let simmer for about 5 minutes, or until fragrant. Throw in chopped garlic and cook for 2-3 more minutes. Transfer to a small ramekin and adjust seasoning if needed. Set aside to cool and let the flavor develop.
Vegan Noodle Soup
Boil a pot of salted water for the noodles. Don't cook the noodles yet.
In another pot over medium high heat, add oil, ginger, and chopped leeks to the pot. Cook until the leeks soften a bit, 3-5 minutes. Add shiitake mushroom stems – this will add extra flavor to the broth. Cook them for 1 minute before pouring in the vegetable stock. Bring the broth to a boil and then reduce to a simmer. Let the broth simmer for 20-30 minutes.
At this time, follow the cooking instructions for the noodles. Drain them and place them into two large bowls. Add enoki mushrooms to both bowls and garnish with chopped scallion greens.
Remove the ginger and mushroom stems from the broth. Throw a pinch of cayenne and sliced shiitake mushrooms into the broth. Let simmer for 5 minutes before tossing bok choy in. Taste and adjust for final seasoning. When the bok choy has slightly wilted and the broth is ready, ladle the hot soup into the noodle bowls. The hot soup will gently cook the enoki mushrooms and take the bite out of the raw scallions.
Finally, top off the noodle soup with generous piles of the delicious garlic ginger oil. Slurp up immediately.