Are you spooked?
Halloween is fast approaching, and as usual, I have no special plans. The last memorable Halloween I had was with Wei three years ago(!), when she picked me up from Flour Bakery after my late shift and we both threw on some dark lipstick for a night out on the town. Since then I've apparently become quite the old lady.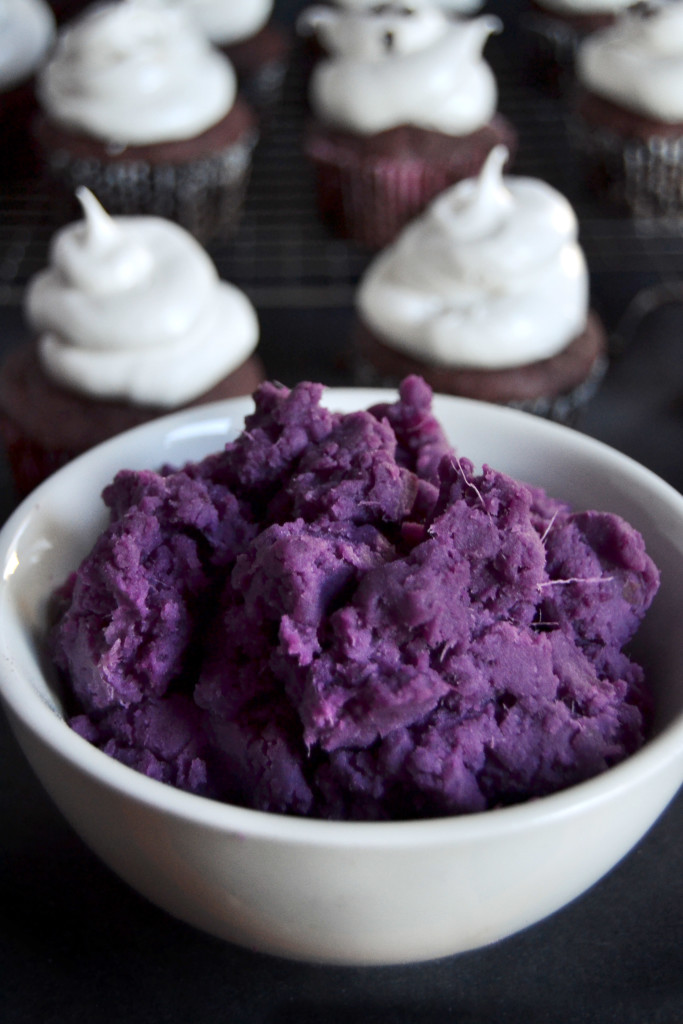 Luckily, my boyfriend is equally indifferent to Halloween so there won't be any pressure to pick out "his and hers" costumes. However, we are also equally capable of consuming large amounts of chocolate. So while I'm not so concerned with the traditional Halloween festivities, I am definitely all about making some killer Halloween snacks for any friends who do decide to show up for some treats.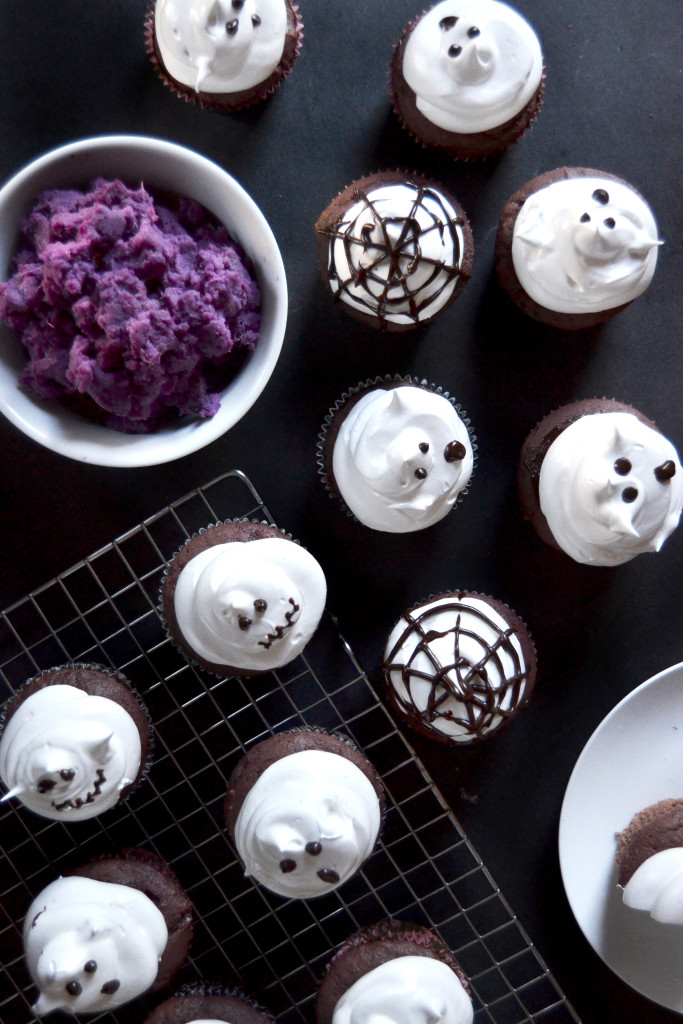 (Unless, of course, Wei wants to put on some lipstick and live it up like old times – in that case I'll be right there with her. But that goes without saying.)
If you can't tell, these cupcakes are made with purple sweet potatoes as a base. I was hoping the purple would remain vibrant in the finished product, but it just oxidized and became a very pale purplish brown once baked. So I added some cocoa powder for flavor and to make it a deeper purplish brown. If you'd like a vivid purple cupcake, you can easily add some food coloring. They taste great and don't need any extra pizazz to make them more appealing, but if you're serving these to kids on Halloween, purpling them up a bit wouldn't hurt.
I also filled these with ganache because everything in life is better when it's filled with ganache. This time I piped in the ganache after the cupcakes were baked, but you could also do what I did for these Elvis Cupcakes and cool some of the ganache before baking the cupcakes and spoon some into the centers of the batter before throwing them in the oven. It's an extra step that I found unnecessary here because I have the tools to fill them post-bake, but if you don't, it's a good alternative.
And finally, this frosting is absolutely perfect for torching because the result is like eating a toasted marshmallow. Unfortunately I don't have a blowtorch, so I tried to use a lighter, and then some matches. But this was both dangerous and ineffective. My advice? Get a blowtorch.
Purple Sweet Potato Cupcakes with Marshmallow Frosting
By L.
Yields 20 cupcakes
Cupcakes (adapted from Heart of Mary)
2 1/4 cups all-purpose flour
1/4 cup cocoa powder
2 teaspoons baking powder
1/4 teaspoon baking soda
1/2 teaspoon salt
1/2 cup unsalted butter, at room temperature
1 3/4 cups sugar
2 eggs
1 tablespoon vanilla extract
1 cup mashed purple yams or sweet potatoes (I used Stokes Purple)
1 cup plain yogurt
(Purple food coloring, if using)
Ganache Filling and Topping
4 oz semisweet chocolate
1/2 cup heavy cream or half-and-half
Marshmallow Frosting (adapted from Christine Gallary at Chowhound)
6 egg whites, at room temperature
2 cups sugar
1/4 teaspoon cream of tartar
Pinch of salt
1 tablespoon vanilla extract
First, boil the potatoes for 20-30 minutes, or until soft. Slide off their skins and mash thoroughly, then set aside to cool.
Preheat the oven to 350F. Prepare two cupcake pans with liners and set aside.
In a small bowl, combine the flour, cocoa, baking powder, baking soda, and salt. In the bowl of an electric mixer, beat the butter and sugar on medium high until fluffy, then add eggs one at a time and beat for several minutes until pale and thick. Add vanilla extract (and food coloring if using), then add mashed sweet potatoes a spoonful at a time while beating on medium-low speed until all combined.
Turn the speed down to low and alternate adding the yogurt with the flour mixture until everything is combined, then increase speed for a few seconds to ensure it's evenly mixed.
Scoop the batter into the prepared cupcake pans, almost to the top of the liners. Bake for 18-22 minutes, or until a toothpick comes out clean. Let cool on a wire rack for a few minutes before removing cupcakes and letting them cool completely. While they cool, make the frosting.
In the bowl of an electric mixer, whisk together the egg whites, sugar, cream of tartar, and salt. Place over a pot of simmering water and whisk continuously until the mixture is warm (about 120F) – this should take 5-6 minutes. Return the bowl to the electric mixer and whisk on medium-low speed for a few minutes, then increase the speed to high and continue whisking for another 5 minutes or so, until stiff, glossy peaks form. Add the vanilla extract and whisk again until combined.
In a squeeze bottle with a nozzle tip or a piping bag with a filling tip, fill each cupcake with ganache, until it feels noticeably heavier.
Spoon some of the marshmallow frosting into a piping bag with a wide tip and frost each cupcake in one swirling motion. To make ghost "arms", use the tip of the piping bag to pull little peaks of meringue from each side. Use the ganache to decorate the cupcakes with eyes and mouths, or spider webs. Or whatever else your heart desires.
If you have a blowtorch, feel free to torch the frosting for a toasted marshmallow flavor and sophisticated look.
Best served the same day, but can be stored in an airtight container at room temperature for up to three days. The sweet potato flavor will become more apparent after a day or two, but in a good way.