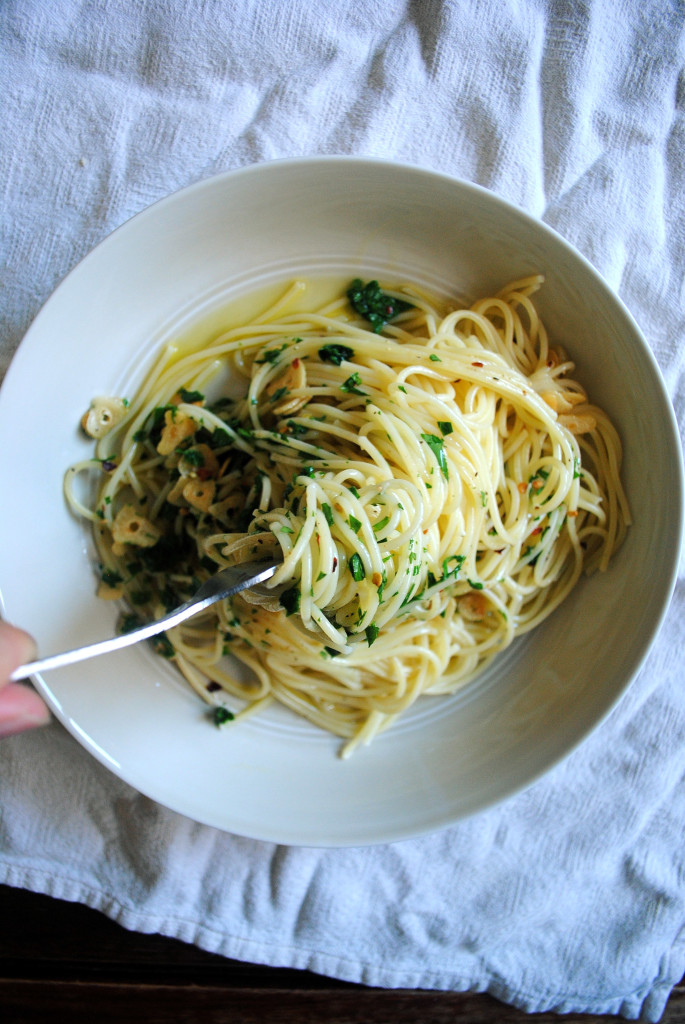 It is never not carbs season in my household. I will eat carbs any time of the day because, let's be honest, it puts me to sleep. Kids, if you're reading this, let grandma Wei tell you that you sleep less and less as you become older. I've resorted to ingesting large quantities of pasta to help me fall asleep. Growing up is simply a series of adjustments.
These days, it's nice to get back to the simpler things – things that you know are always going to be good and reliable. For many years, I have been making this spaghetti aglio e olio but I've strayed from it for a while. I think part of me straying from this easy pasta dish is because of the blog. For over two years now, I've wanted to make creative dishes or ones that are challenging to me. I've really tested my amateur baking skills and I've definitely found more excuses to experiment with pork belly.
But lately, I want to get back to the simpler things and enjoy humble ingredients that truly kicked off my love for food and cooking. I think it's a mantra that we easily forget with our ever changing lifestyles and nonstop to-do lists. Sleeping less is just the beginning.
So in this post, let me remind you of my love for Chef John and pasta. Spaghetti aglio e olio, which translates to spaghetti with garlic and oil, is so simple but so delicious that I feel guilty that I had forgotten about it. It takes very few ingredients to make and I almost always have these ingredients in my pantry. This pasta dish is a great base for almost anything, such as shrimp.
It'll definitely give you garlic breath but it'll also conveniently ward off any vampires come Halloween.
Spaghetti Aglio E Olio
Recipe from Food Wishes
by W.
Serves 1
1 serving of dry spaghetti, about 1/4 pound
3-4 large cloves of garlic, thinly sliced
3 tablespoons of olive oil
Salt and pepper
Red chili flakes to taste
2 tablespoons of chopped Italian parsley
1/4 cup grated Parmigiano Reggiano
Start by boiling a pot of salted water for the pasta. The garlic and pasta take around the same amount of time to cook, so make sure the pasta water is boiling and ready before commencing.
Once the water is ready, place the dry pasta in. Stir as needed.
In a cold pan, throw in sliced garlic and olive oil. Turn the heat on to medium and warm up for a few minutes. Once the oil starts to simmer and the garlic looks a little golden, reduce to low heat and keep cooking. Be careful not to let them burn. By the time the pasta is done, the garlic oil should also be done. The garlic should look very golden and a little crispy. You'll definitely be able to smell it as well.
Drain the pasta and season with salt and pepper. Sprinkle on some red chili flakes to your liking. Pour the aromatic garlic oil onto the spaghetti and add the chopped parsley. Toss everything together and taste for seasoning. Finally, finish this beautiful dish off with some freshly grated Parmesan Reggiano.
Enjoy immediately. Perhaps with a glass of wine.