Without getting too wordy about this, let me just say that it's been a long week but I've had some time to think and keeping silent now seems impossible and irresponsible. I feel disconnected from my country and home at the moment. I worry for myself, my family, my friends, and people across this divided country. I don't know what the next four years will be like, but I am hopeful. Maybe this is the wakeup call we all needed.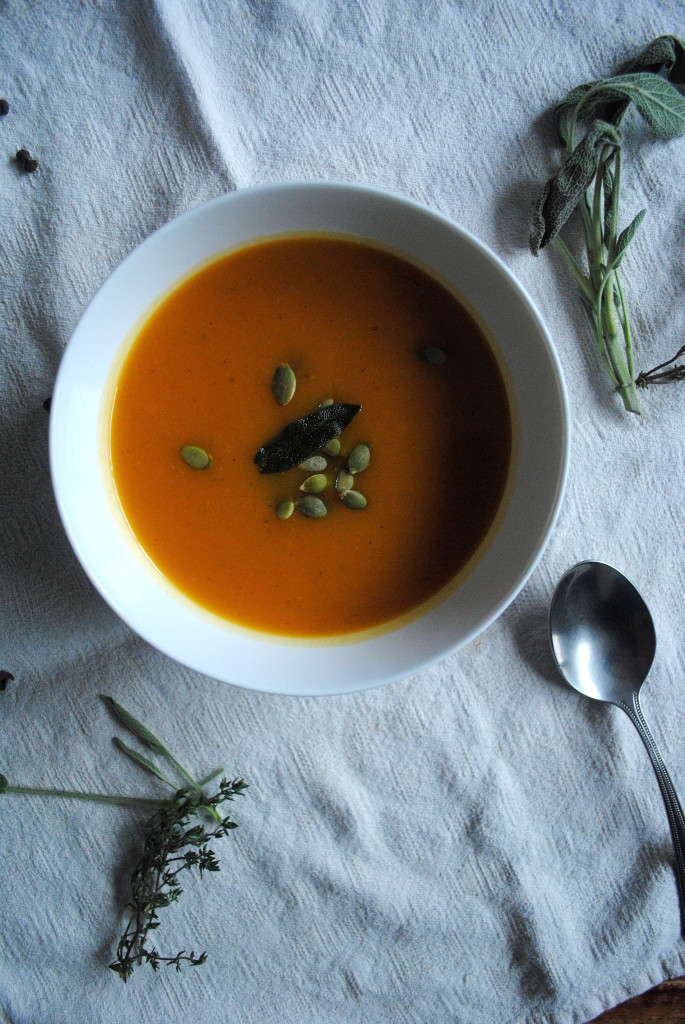 We are just some days away from Thanksgiving and this is the perfect time to come together, share a meal, talk and connect. Thanksgiving is my favorite holiday and this year will be no different. I believe food goes beyond just nourishment for the body but is good for the soul as well, especially when it is shared with others. My mother made us sit down at the table every night together to have dinner when we were young. That was so important in my upbringing and I truly believe that progress can be made at the dinner table. These are the little victories we need now.
So I'll give you something simple and classic today: butternut squash soup. This one contains all the traditional autumnal ingredients – bright butternut squash, crisp apples, and some thyme and sage to harmonize everything.
There's not much to this one – the flavors are simple and direct. It's also vegan. This butternut squash soup is creamy and slightly sweet and will warm you up like a thick blanket. This one doesn't take long to make and would make a great addition on the Thanksgiving table. Quick note: if you have fresh peppercorn, use those because it will be more fragrant but ground pepper will be fine too. Everything will get blended together in the end.
This Thanksgiving, make sure the love and food are loud and abundant.
Butternut Squash Soup
By W.
Serves about 4-6
1 butternut squash
1 apple (I used Honeycrisp)
1/4 onion
1 tablespoon olive oil
Salt and pepper
3 tablespoons brown sugar
Sprig of thyme
3-4 sage leaves
32 ounces vegetable broth
Chop up the butternut squash and apple into 1″ chunks. Roughly chop up the onion.
In a medium to large pot over medium heat, add olive oil. Throw in onions and season with salt. Sauté for 3-4 minutes, or until the onions start to soften. Add chopped squash to the pot and season generously with salt. Cook and stir occasionally for about 10 minutes. Add chopped apples, herbs, and brown sugar. Cook and stir for another 5 minutes.
Pour in the vegetable broth and bring to a boil. Once it comes to a boil, lower the heat to a gentle simmer and cover the pot. Let simmer for about 45 minutes. At this point, if you have an immersion blender, start blending until the soup becomes smooth and creamy. If don't have an immersion blender, transfer to a blender to achieve the same results. Make sure you taste for final seasoning – more salt and sugar may be needed.
Serve immediately. You can garnish with pepitas and fried sage. Drink up!