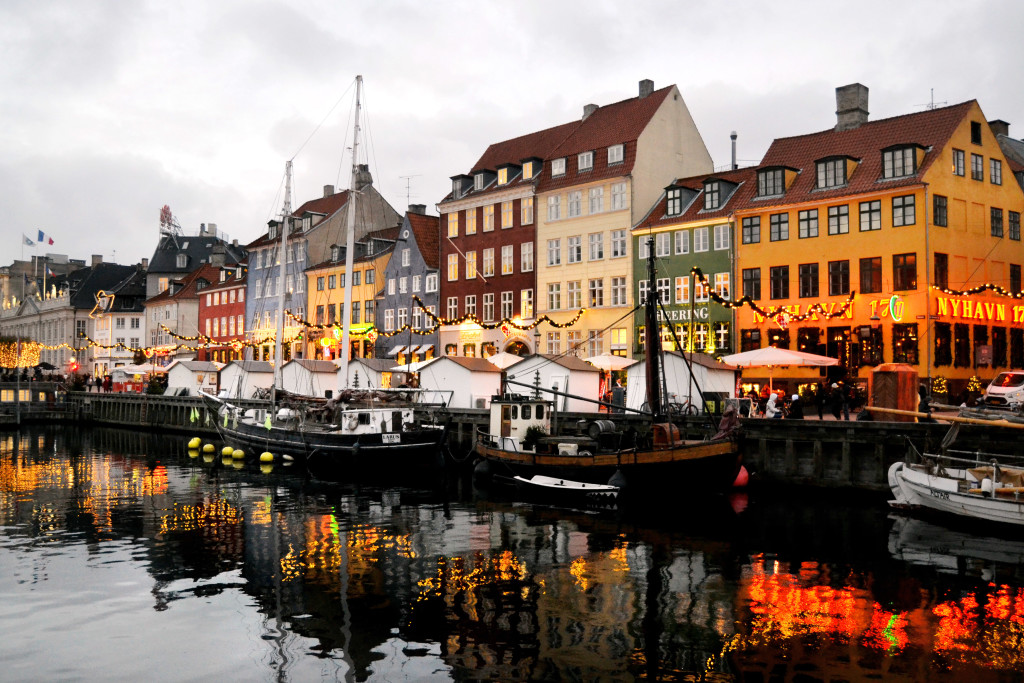 Hello, friends!
I'm back in Boston after a week in Copenhagen, where my boyfriend and I ate 24/7 and tried our best not to get hit by bicyclists channeling their ancestral viking spirits.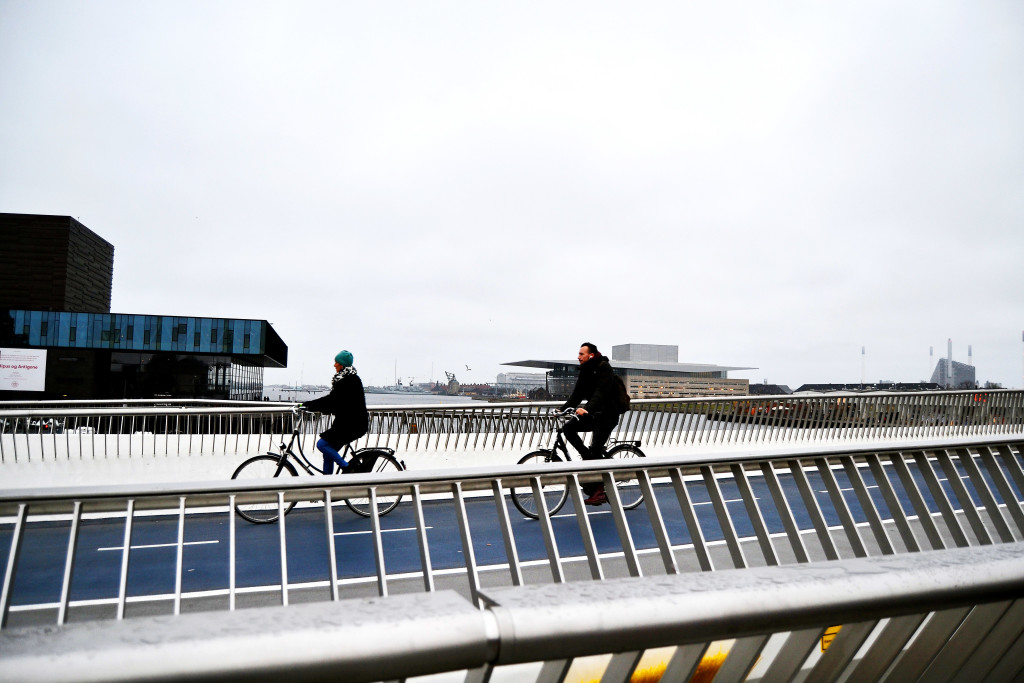 I survived, and now I'm going to share my experiences with all of you lovely people. If you're planning a trip to Denmark in the near future (or even in your daydreams), I hope I can provide you with part of the answer to "where should I eat in Copenhagen?". And if you've never considered Denmark to be a place worthy of your travel time and budget, I hope I can show you just how wonderful it truly is.
If you don't need the backstory to this trip and you want to get straight to the food, skip the next two paragraphs.
This city was one that I've had on my travel wish list for years, ever since I took a sociology course one summer in college. My professor used it as an example of a progressive city, explaining the lengths that the Danish government went to to maintain environmentally friendly practices. They went so far as to make its capital city so inhospitable to vehicles that pedestrians and cyclists far outnumbered cars. In my head, I imagined a car-free oasis where pedestrians owned the streets and everyone was perpetually smiling. Now I see that it must have appealed to me because that description is the antithesis of Boston.
I then read about it in a travel memoir my mother had given to me for my birthday a few years ago, when the travel bug was hitting me the hardest. What struck me at the time was the author's observation that Copenhagen seemed to have more canals than Venice. And who doesn't love canals?
As it turns out, Copenhagen lived up to all of my expectations – a pedestrian utopia, with friendly, laid-back people and wonderful food. Let's get right into it.
Breakfasts
Scandinavian breakfasts are a thing of beauty. As with anywhere that is not the U.S., portions are not super sized. The Danish can put out quite the spread, with more options than any American brunch spot could think of.
Our first real breakfast was at Møller, a modern cafe in the less-gentrified area of Nørrebro (north of the city center). We ordered by ticking off whatever we wanted from a menu checklist. They had all the staples, like fresh sourdough bread and whipped butter, along with several savory options that I wouldn't have expected for breakfast – like salad, salmon, and an assortment of meat options.
My sweet tooth directed me towards their waffle, and of course I needed their house made Nutella as a side. The waffle came with crème anglaise and raspberry puree, so all together the combination of flavors was delicious.
I topped it all off with a large mug of dark hot chocolate which they brought with a heaping side of whipped cream. I gasped when the whipped cream first graced my lips – it was the freshest, richest, creamiest cloud ever forged by the heavens. It is impossible for me to exaggerate how fantastic it was; Danish dairy really is out of this world.
The next morning we trekked to Vesterbro (west of the city center) to check out Mad & Kaffe on Sønder boulevard. It was a brunch spot that had rave reviews, so naturally it was bumpin' when we arrived. Even on a Friday morning we had to wait over an hour, but luckily it turned out to be totally worth it.
Again, all we had to do was check off what we wanted and hand our waitress our checklist. We had the option of ordering three, five, or seven mini dishes. We opted for five each, and tried as much of the menu as we possibly could. The croque monsieur, sourdough bread, and oatmeal with almonds, caramel and apples were my favorites, but everything was on point. And as with everywhere else in the city, the coffee was divine.
We walked off our breakfast-of-champions with a walk to nearby Assistens Cemetery, known as one of the most beautiful green spaces in Denmark. At the height of autumn the place was stunning, and I admit I took a few too many pictures.
Our last breakfast was had at Next Door Cafe, a funky basement hipster spot serving up fresh fruit juices and a handful of tried-and-true breakfast options. The food was rustic and hearty – perfect fuel for a full day of walking. The real magic of this place was its service – we were warmly welcomed the moment we walked through the door and immediately seated. The barista stands out in my memory with crystal clarity – if not for his warm hospitality, then at least for his skin-tight rainbow leggings.
Bakeries
You didn't think we only ate breakfast at restaurants, did you? Pastries are everywhere in Copenhagen, and I took full advantage. My favorite bakeries included the most popular: Lagkagehuset, Holm, Brød, and Emery's. They're all solid choices for a delectable buttery pastries and delicious breads.
Another fun stop of ours was Big Apple, a cute corner cafe that served sandwiches on their own house-made gluten free bread. Like the bread at Next Door Cafe, the bread was rustic and nutty, made from whole grains with minimal processing. With its pillowed benches and soft lighting, Big Apple was the first place where we experienced real "hygge" (pronounced hue-gah). Hygge is the Danish word for having a pleasant, cozy experience and taking time to enjoy the moment. Basically, we were crazy comfy and didn't feel at all rushed to get on with our day of sightseeing. It was lovely.
One night when we were feeling especially fancy, we treated ourselves to dessert at Conditori La Glace. It was a dessert shop with a unique turn-of-the-century elegance, filled with old ladies gabbing in quick Danish. We grabbed a seat in a cozy corner and had a creamy chocolate mousse cake and a caramel-y nut tart, with more of their amazing whipped cream. I can see La Glace as the perfect spot to grab an artfully decorated cake to bring to a friend's upscale dinner party.
Dinners
We allowed ourselves three nice dinners during our week in Copenhagen, so we did our research to make sure we were spending our money wisely. Our first dinner was at a modern restaurant just across from our hostel: Honey. We opted for the Full Honey for the Money, a prix fixe option that included way more food than we could have anticipated. For the price tag we would have been happy with a simple three course meal and dessert, but instead we received a variety of "side" dishes. These dishes included enough food to make up an entire extra meal.
Each dish was exquisitely executed, but my favorites were the mushroom and walnut ravioli and the charred cabbage. The prix fixe included a carafe of wine and an all you can eat "make your own sundae" bar, but we could only stomach a few bites after such a glorious feast. All in all, our first dinner was a success.
Our next dinner was at The Olive, and it came about quite serendipitously. We had walked by it several nights in a row on our way home from the Christmas markets, and one night we decided to be spontaneous and try it out. As if it were meant to be, we were immediately welcomed and seated at the last open table, a table for two in the center of the dining room.
This meal is one of the best I had the entire week. We began with a few crab and cream cheese stuffed mushrooms all smothered in a pile of grated parmesan cheese. After one bite, I knew we had struck gold with this place. I then ordered their seasonal menu item, a beetroot risotto with a deep magenta hue. I know, risotto is Italian, so why wouldn't I eat something more true to the local culture? Well, the beets were grown in Scandinavia. Scandinavian cuisine, as I've learned, is far more than just seafood from its surrounding oceans: it's a belief in using seasonal ingredients from your own back yard. The Olive hit this one out of the park, and I still think about that risotto every time I sit down to dinner.
Our final "sit-down" dinner was at Neighborhood, a trendy pizza joint in Vesterbro. I ordered the "Nordic Apples" pizza, with Danish bacon, comté cheese, caramelized onions, garlic, and apples. I was a nervous about my choice, because while I'm all for sweet and savory combinations, I wasn't sure how well the apples' texture would mesh with everything else. But the apples softened into puddles in the oven and blended well into the cheesy sauce. Not only did the flavors get along swimmingly, the crust was also well-done and crispy but still soft on the inside. I hate to hate on Italy, but this Nordic pizza was better than any I have ever tasted.
Street Food
A few days before we left, all the Christmas markets in the city center opened for business, as did the Tivoli Gardens for its holiday season. The entire city was decked out in lights and holly, so the experience of walking down the cobblestoned streets was all the more dreamlike. For a Christmas-lover like myself, it was pure bliss.
The markets sold crepes, German sausages, and steaming cups of hot chocolate to all the shoppers, keeping them warm while they perused local vendors' crafts.
Just beyond the Tivoli Gardens stood John's Hotdog cart, an unassuming truck with picture menus plastered on either side of it. We had heard from a friend that this was the best street dog in the city, so we each ordered a frank and chowed down. The loaded hot dog was out of this world – covered in red onions, crispy fried onions, relish, ketchup, mayo and who knows what else. It was a flavor explosion.
On our final day, we rented a few bicycles from our hostel and went to look at noma, the number one restaurant in the world.
Then we had lunch at Copenhagen Street Food. It's situated across the canal that separates downtown Copenhagen from the more industrialized/ hippy area of Christianshavn to the south-east.
This Street Food market wasn't just a bunch of food trucks, which was my initial understanding. It was an entire Costco-sized warehouse with at least 40 different food vendors and restaurants permanently set up. Wooden benches filled every empty space, and some food stands had built-in stairs that led to more seating upstairs. A cozy fireplace near the back warmed those who enjoyed their food while sitting on rustic wooden chairs, and crowds walked by holding bao buns or a fresh seafood smorrebrod (meaning open faced sandwich), a traditional Danish staple.
We had chicken and beef baos from a Korean street food stand, which we ate standing at a high-top counter while people watching. Next stop was another hot dog, because the Danes knew how to sling a good dog. This time I got an unusual topping combo: pesto, bacon, and parmesan. All solid flavors in their own right, they of course tasted even better on top of a freshly grilled hot dog in a warm bun.
Finally, I ordered a simple pasta dish from an authentic Italian stand. I knew it was authentic because the chefs spoke to each other in fluent Italian rather than Danish. Italian food was everywhere in Copenhagen, so I figured I had to at least try some Italian food before I left. I got a fettuccine with butter and parmesan, which became what we call Fettuccine Alfredo once it was all combined. Topped with cracked black pepper and fine swirls of parmesan, this al-dente pasta was on par with Italy's finest. So if you're going to Copenhagen, don't avoid the Italian spots in search of traditional Danish food – they're still the real deal.
To my point, my boyfriend ordered the porchetta sandwich from a different but equally genuine Italian stand, and it did not last long.
As we learned from our Sandeman's tour guide, there are six pigs in Denmark for every citizen. That's a whole lot of hog. So it only makes sense that bacon, chorizo, porchetta, hot dogs, and the like are such an important part of the Danish diet, however surprising that may seem. Hence our tendency to order pork at every opportunity.
On our last night we finally made it to the Tivoli Gardens, one of the oldest amusement parks in the world. It had reopened for winter two days earlier after undergoing a facelift to prepare it for the Christmas season. While I've never been to Disneyland, I imagine it would look something like the Tivoli Gardens, only far less charming. (Fun fact: Walt Disney visited Copenhagen and took notes on Tivoli's orderliness and festive atmosphere. Four years before opening Disneyland.)
We accidentally went at the exact right time: it was drizzling and the sun was about to set, so the park wasn't crowded. We also got to see the park at night in all its Christmasy glory, which I loved.
I rode roller coasters, dropped from great heights, took a romantic boat ride around a lake surrounded by glimmering lights, and screamed an honest-to-goodness scream when I believed one ride was actually going to catapult me far into the city as it spun around and around in reverse.
After that, I had had enough stomach-turning, and spent the rest of my time snacking on waffles and nutella-filled crepes. On our way out, we walked around the Gardens' festive paths and marveled at the willow trees completely wrapped in sparkling lights.
Pro-tip: as obvious as this is going to sound, keep in mind that real food at Tivoli is mega expensive. They have many fancy restaurants on the premises, but I can't imagine the food would be any good because it seems they are selling the ambiance of the park more than the food on their menus. If you're going to make a day of it, plan to eat somewhere else before or after your trip to Tivoli, and limit yourself to snacks and drinks while you're there.
We were headed back to Boston the following morning, which was probably for the best – I don't think we could have topped Tivoli had we stayed even one more night.
I already miss Copenhagen's relaxed atmosphere, with commuter bicyclists and pedestrians leisurely strolling the ancient narrow streets. The coffee was always unnaturally bold and smooth, and all the pastries (made with fresh Danish butter, which, like the rest of its dairy, is only the best of the best) were worthy of an audible "mmmm". Copenhagen's thriving restaurant scene and enthusiasm for the holiday spirit along with it's hygge vibe were really what made me fall in love. Meals were long and conversations were intimate; no one was rushing and every moment was another chance to smile and enjoy a warm cup of coffee.
Now that I'm back in Boston, surrounded by angry drivers and hurried people working non-stop, I'm doing my best to keep the hygge alive. And I want the same for you, because we can all slow even the most insignificant of moments and learn to appreciate them.
So until next time, here's wishing you a relaxing weekend full of warm food, good coffee, and engaging conversation. So go on and hygge it up, guys. Once you start, you can't stop.