Greetings from London!
I am currently sitting in a tiny bustling coffee house filled with locals sharing communal tables. As I sit here, listening to '60s music and enjoying a London fog, I can't help but feel like I'm in someone else's dream.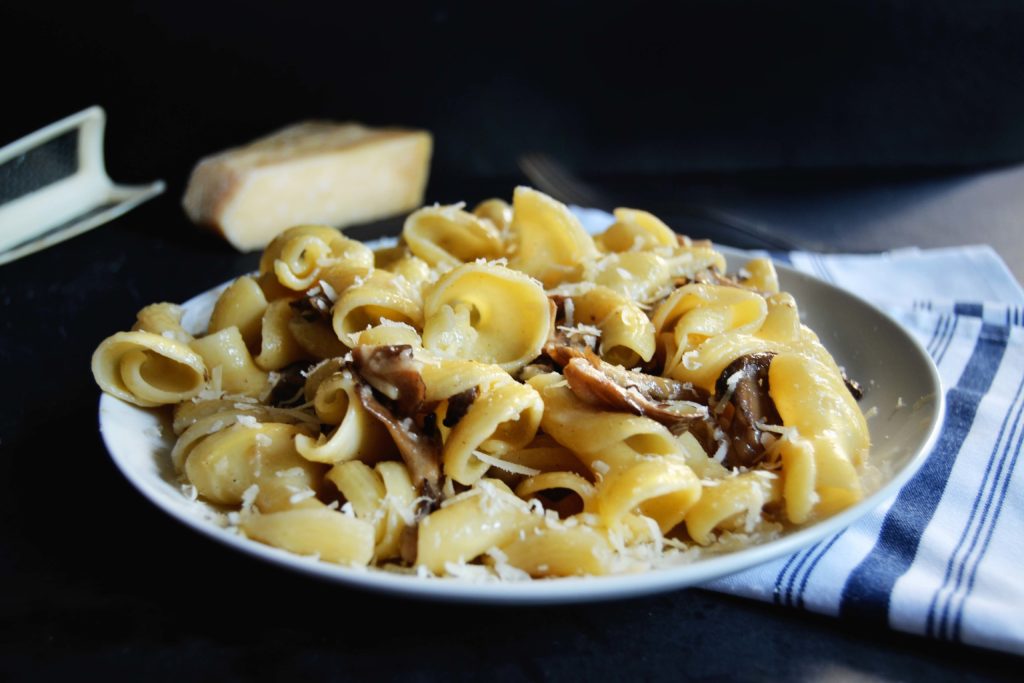 I've only been here for a few days, and I'm already totally smitten. When I get back next week, you're all going to get an earful – or eyeful, rather – about everything I've been doing and eating. Until then, I've got a bangin' pasta recipe for you guys, which also just happens to be perfect for the final weeks of the winter doldrums.
To all the mushroom haters out there, this one is not for you. It's all about the shrooms.
This is a super easy weeknight meal – just cook some mushrooms in brown butter and add the pasta. Boom. If you're feeling snazzy, go ahead and top it with shaved truffle too.
Just a note about the ingredients: I used a variety of small mushrooms, but you can use what you like. Try going outside your comfort zone and experiment with a new variety, they're all delicious.
For the pasta, I used campanelle because I love the shape. This recipe is much easier with short pastas, but can be made with long pasta too if that's all you have. It'll just be a little more challenging to toss together.
The brown butter isn't super noticeable (if you want its flavor to be stronger, make this version instead) but it does add a slight nuttiness which is absolutely divine with the earthiness of the mushrooms. When this dish hits the table, it won't have long to live.
Brown Butter & Parmesan Mushroom Pasta
Ingredients
1

stick (4oz)

unsalted butter

10

ounces

mushrooms

(I used oyster, maitake, and baby bellas)

2

tablespoons

olive oil

1

lb

pasta of choice

2

cups

freshly grated Parmesan cheese

1

cup

pasta water

reserved
Instructions
In a large, light bottomed sauce pan, brown the stick of butter. When it's browned, pour out half of it and set it aside for later.

Add the olive oil to the brown butter to keep it from burning further. Add the mushrooms and season with a bit of salt. Stir occasionally.

While the mushrooms cook, boil a large pot of heavily salted boiling water. Add the pasta and cook until al dente - it will get the chance to cook more.

Reserve a cup of the starchy pasta water, then drain the pasta.

Moving quickly, remove the mushrooms from heat and add the Parmesan cheese, along with half the cup of pasta water. Stir gently with a wooden spoon, and add more water if the cheese isn't saturated.

Quickly add the warm pasta and stir. Add the reserved brown butter, then season with salt and pepper. Serve topped with more freshly grated Parmesan.